I am a Licensed Holistic Nutrition and Health Practitioner, I have a Diploma in Natural Skincare Formulation, a certification in Making Natural Skin Care Products, and training in Aromatherapy.
Through my products, my purpose is to guide you to be mindful of what you're putting into and onto your body to help you feel your best.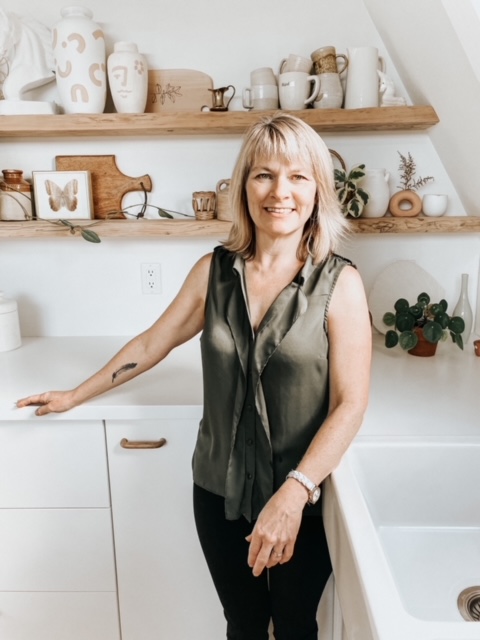 I'm Lorraine Crowe, creator of Rain Natural Skincare, and I'm so glad you're here!
To take you back to the beginning… when I was pregnant (back in the late 80s/early 90s… gosh, how was that so long ago?!), I started to think a little more about the food I was eating for my pregnancy and during nursing. Then, I wondered what I was going to feed my children, as I wanted them to have the healthiest options available. This led me to start looking more into the children's foods, formulas, diapers, baby wipes, etc., that were on the market.
I decided that I didn't want to use contemporary diapers that are disposed of in the trash multiple times a day, so instead, I went about finding more natural cloth diapers (which was hard as it was before the internet!). I bought books about making your own baby food, but I wanted to make sure I was doing it right. I purchased a blender and made large batches of food ahead of time and then froze it into small portion sizes until my children started eating what we ate, which actually wasn't long.
---
Then the 90s came along and the media was all abuzz about eating low-fat diets; staying away from fat as it was the cause of heart disease. So I fell into the "no-fat bandwagon."
Many years later I realized that things just weren't right. My body was telling me something was off. I decided to find out more about proper nutrition and how someone my age should be eating. And boy, was I surprised to find out that I was going about it all wrong… and that my body was trying to tell me that!
I decided I wanted to learn more than what was on the internet and in 2016 I enrolled in a program to become a Licensed Holistic Nutrition Practitioner. As my diet changed to natural foods from nature, rather than a package, I could feel my body releasing the extra pounds it had started to carry around. My digestion was much better, my tummy happier, my acne-prone skin cleared up, and my energy soared.
By studying a holistic approach to the whole body, I also started to take notice of what I was putting on my body too. All the lotions and potions that were in my bathroom started to get a make-over as well. I became a label-reader for my food and my skin care.
---
I love to cook and so I started to dabble in my home kitchen with skincare products from scratch (with ingredients I knew and could pronounce… just like my food).
And boom! my skin became even better than when I was in my 30s and I no longer felt that I needed to be wearing make-up all the time to cover it up.
I loved making my skincare products and sharing them with family and friends to try out. They happily gave me their feedback, and I continued to tweak my products to make them "perfect."
It was suggested to me that I should start selling them, but I didn't think I could do that. However, with encouragement from my daughter, I started with some easy and small products. I realized how much I loved doing this and seeing others enjoy knowing they are buying something that is beneficial for their skin.
I am a Licensed Holistic Health & Nutrition Practitioner, I hold a Diploma in Natural Skincare Formulation, and I have taken aromatherapy and natural skincare courses.
I've learned over the years that everything from what you eat, to your skincare, your fitness, and your stress levels are all intertwined for your total well-being. That was the lightbulb that I had been looking for.
The fewer toxins that you put into and onto your body, the less work it has to do to rid yourself of those toxins.
Be kind and loving to your body, it's the only one we have and we want our bodies to last us a long time! My hope is that with my skin care products added to your regime, you will be able to start, continue, or complete your journey of finding wellness.
~Lorraine