Berries are fabulous because they contain rejuvenating nutrients that give our skin that glow from within. Blueberries especially are the #1 anti-oxidant fruit. They are a major source of hard-to-find antioxidants such as ellagic acid, anthocyanins, Vitamin C, and polyphenols, which protect the skin from UV damage. These powerful antioxidants prevent 'cellular rusting' and studies show that anthocyanins can increase the levels of Collagen, Elastin and Hyaluronic acid in the skin. (Yes please!)
Fruit is actually one of the main sources of skin beauty nutrients that keep your skin young and glowing, as well as helping rejuvenate the whole body. It would be very difficult to get enough vitamins and antioxidants if we didn't eat fruit. So eat your fruits in as many ways as possible.
Here is one easy way to get some antioxidants to help your skin. These healthy blueberry muffins are full of fibre, naturally sweetened, dairy-free, and made with a mix of almond flour and oat flour to keep them gluten-free too.
Blueberry Oatmeal Muffins – Makes 10-11 muffins
Ingredients:
1 cup oat flour*
3/4 cup almond flour (almond meal)
1/4 cup ground flax or flax meal
1 tsp ground cinnamon
1 tsp baking soda
2 eggs, whisked
1/3 cup real maple syrup
2 tbsp olive oil or coconut oil, melted
1/2 cup unsweetened almond milk (or any dairy-free milk of choice)
1 cup fresh or frozen blueberries
Directions:
Preheat oven to 350F degrees. Line a muffin pan with paper cups or grease well.
Combine all the dry ingredients in a large bowl: oat flour, almond flour, ground flax, cinnamon and baking soda.
In a separate bowl, combine the wet ingredients: 2 eggs, maple syrup, oil, and almond milk.
Combine the dry and the wet ingredients together.
Gently fold in blueberries.
Divide batter evenly between muffin cups, filling 3/4 of the way full. Bake for 18-25 minutes or until a toothpick inserted comes out clean or with just a few crumbs attached. 
Note:
*You can buy oat flour or make your own – grind up oatmeal or rolled oats in a high-speed blender or food processor and blend or pulse them until the mixture is smooth and resembles flour or a fine powder.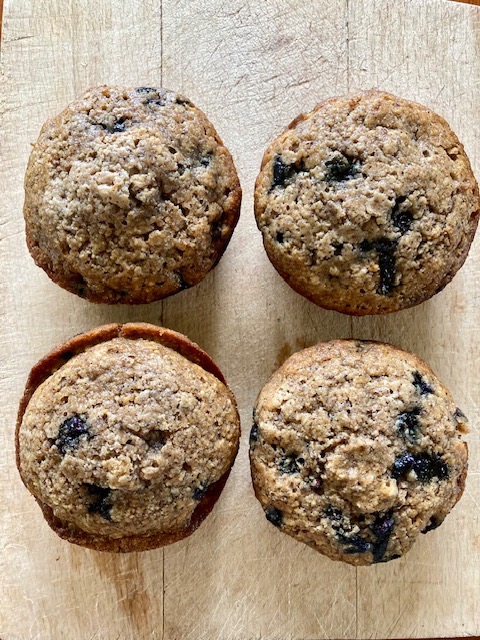 I hope you enjoy them as much as I do. I like to freeze them once they're cooled down to keep them fresh and just thaw them out as needed.
If you'd like to try using my natural skincare products that contain loads of antioxidants to nourish your skin, you can see them here.
To Your Health and Beauty,
~Lorraine
Recipe credit/adapted from Ambitious Kitchen