Many people ask me what they can use on their skin to help with skin issues such as acne, rosacea, eczema, and psoriasis. While I love to give them advice about some of my skincare products that can help, I also usually talk to them about their lifestyle.
I wish having healthy clear skin was as easy as using a skincare product!! But unfortunately, that's not the case, as it's much more than just what you use on your skin.
Skin conditions can be caused by many things including the food you eat, your sleep, your exercise, your stress levels, your relationships, etc. One huge source of skin issues is a gut imbalance, this can come from eating a poor diet and having food intolerances. Often, inflammation on the skin is related to inflammation in the gut, and if you eat certain 'trigger foods', they can make your inflammation worse. The three big food triggers that cause inflammation are processed sugar, dairy, and gluten.
Inflammation is the root of almost all skin conditions, and if you are eating these foods and notice your skin condition is affected, eliminating them can most definitely make a difference.
These are some of the foods I eliminated years ago when I learned the importance of eating more clean whole foods and ditching processed packaged foods. That change in my daily diet made a huge difference, and not only did my skin improve, but so did my digestion, energy, joint health, and mental clarity too.
Now, I have to admit that I am a chocoholic and love my chocolate. Many chocolate recipes are full of inflammatory ingredients, so I have had to find healthier recipes without the above 3 trigger foods. Since we all know that most muffins contain, dairy, gluten, and sugar, I wanted to share a much healthier alternative that doesn't include those 3 trigger foods.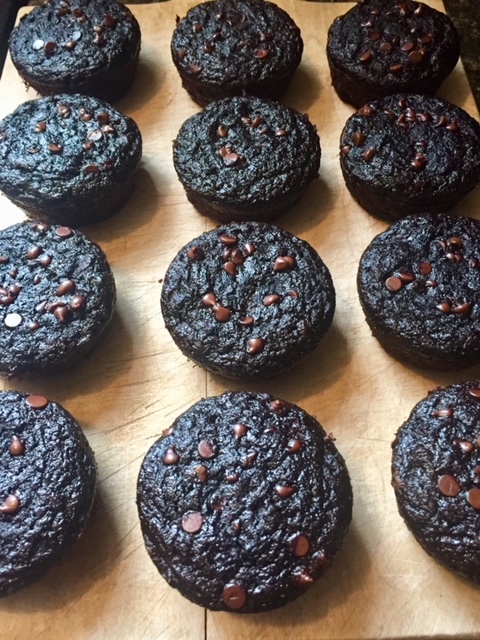 Chocolate Zucchini Muffins – makes 12
Ingredients:
3/4 cup zucchini, shredded
4 large eggs
1/2 cup maple syrup
1/2 cup unsweetened applesauce
1/3 cup coconut flour
1/4 cup cacao powder
3 Tbsp arrowroot powder
1 1/2 tsp baking soda
3/4 tsp ground cinnamon
1/2 tsp ground nutmeg
1/4 tsp sea salt
1/2 cup dairy-free mini chocolate chips – divided
Directions:
Preheat oven to 350 degrees Fahrenheit.
Line a muffin tin with baking cups or grease well with coconut oil.
Shred the zucchini with a grater and place it on a clean towel or paper towel to drain some of the moisture out while you prepare the batter.
Mix the eggs, maple syrup, and applesauce.
Add the coconut flour, cacao powder, arrowroot powder, baking soda, cinnamon, nutmeg, and sea salt and mix until well combined.
Wrap the towel around the zucchini and give it a light squeeze to remove excess moisture. Then fold it into the batter along with 1/4 cup of the chocolate chips.
Divide the batter evenly among the muffin cups.
Sprinkle the remaining 1/4 cup of chocolate chips on top.
Bake for 22-25 minutes until a toothpick comes out clean.
Cool in the pan for 10 minutes and carefully loosen by sliding a butter knife around, then completely cool on a wire rack.
I hope you enjoy them as much as I do. I like to freeze them once they're cooled down to keep them fresh and just thaw them out as needed.
To Your Health and Beauty,
~Lorraine
Recipe credit/adapted from Against All Grain.