For the past two blog posts, I've been telling my story, starting with my struggle with acne, about how I was feeling, what was happening with my body and how I started to take matters into my own hands.
By learning to take care of myself, not to just take a pill or cream to control acne because that's what the doctors were giving me, and learning not to listen to the media about what we should eat (note here: they are pushing their products for their financial benefit, not our health!!)
I started to learn so much more than just what to put on my skin, or what to eat, but more importantly how to take care of myself as a whole person and not just its separate parts.
Think about this – medicine is supposed to be a bridge, it's useful in the short term, but without lifestyle change, it will never make a difference in our situation or health.
When I decided I wanted to learn more about nutrition, about living a healthy lifestyle, and learn it properly, not what I read online or through the media. I chose a Nutrition school that taught Holistic Nutrition, to learn how to deal with and treat the body as a whole:
Proper nutrition and hydration –what you put in
Physical fitness – what you put out
Restful sleep – how you re-energize
Peaceful environment – how you cope
Meaningful joy – how you thrive
From that, I learned many things, so continuing with my Nutrition 101 mini-course, today I'm talking about clean eating vs. counting calories.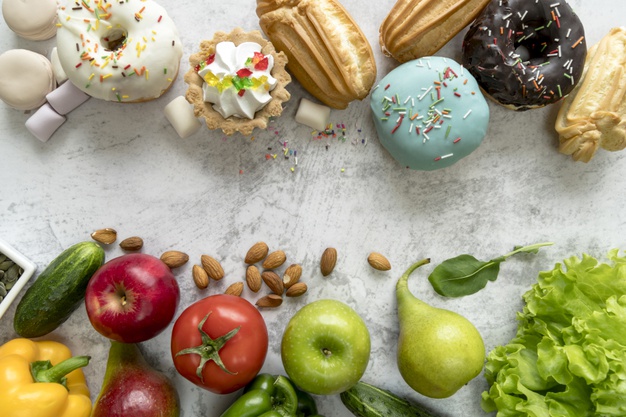 It's not just about the number of calories; it's where the calories come from that is crucial. It determines whether your body is tempted to store them as fat, use them for energy, or apply them to some other useful mechanism. Not all calories are equal like we thought, here's what I mean.
CLEAN EATING:
Clean healthy eating is about incorporating whole foods into your day. Whole foods are vegetables, fruits, whole grains, nut seeds, healthy fats and clean lean proteins, ideally, anything that hasn't been packaged in a box, container or processed in a factory. Eating these non-processed foods is considered clean eating because you are not absorbing chemicals, additives, and preservatives that come with food processing. Clean eating is eating foods in their most natural form.
When you eat foods close to nature, you are avoiding the need to 'watch what you eat' because everything you eat is good for you. When you follow a clean eating 'diet', you generally don't need to restrict the amount of food you eat because more food is essentially just more nutrients and is more filling.
CALORIE COUNTING:
This approach to healthy eating involves keeping track of exactly how many calories each item of food has, and how many calories you need to maintain, gain or lose weight. This type of 'diet' is about energy going in as food and energy going out as exercise. You need to count each item that goes into your meals and snacks to ensure that if you want to lose weight, your intake of food (calories in) is less than used during exercise (calories burned).
BUT ALL CALORIES ARE NOT CREATED EQUAL!
If your diet allows 2000 calories in a day (just for example), then technically, you could have:
2 cans of coke (140 calories each) = 280 calories
A 500 tub of cookie dough ice cream =1000 calories
A doughnut from your local coffee shop = 195 calories
A 50-gram serving of potato chips = 270 calories
1 slice pepperoni pizza = 320 calories
This may all taste good going down, but how will you feel afterwards???
Next option:
Granola (200 calories)
Coconut Yogurt (150 calories)
Green Veggie Juice (150 calories)
Snack of raw carrots (50 calories)
Spinach and Beet Salad (250 calories)
Grilled chicken quesadilla (500 calories)
Green tea, lemon tea, ginger tea – you can drink herbal tea all day (0 calories)
Apple (50 calories)
Steamed broccoli (30 calories)
Baked salmon (200 calories)
Baked sweet potato (90 calories)
Popcorn (150 calories)
Would that keep you full? I hope so!
These are around 2000 calories in both examples but are very different styles of eating. When you count calories, you do need to be very specific to stay within your allotted amount of food to eat BUT if all those foods are healthy and nutritious, it will take you a LOT of food to reach that amount.
FOR ME, IT IS MUCH MORE IMPORTANT TO BE EATING CLEAN THAN TO BE COUNTING CALORIES.
By incorporating healthy, clean, natural, unprocessed, whole foods into your life, you will start to achieve your long-term health and skincare goals.
Instead of focusing on a number, whether it's the number of calories, the number of fat grams or the number on your scale, focus on health, eating whole foods and you will naturally choose the best foods for you. It begins with what you eat. Food is where your body gets the calories it needs to function.
Eating clean whole food is very important. Did you know your body needs anywhere from 73 to 90 nutrients a day? So if you are eating nutrient-deficient foods, then that means you're missing a big percentage of the nuts and bolts (nutrients) for us to operate properly.
Think about this, if we removed a big portion of the nuts and bolts from your car and you go out and try to start it up, what's going to happen? It's not going to work.  It's not going to function. The same thing can happen in our bodies and that's partly why we become toxic and sick.  If you're nutritionally deficient, you're a toxin sponge.
You have cells in your body. These cells have receptor sites and those receptor sites are like an electrical plug in the wall, where you plug a light into for example. If those receptor sites aren't full of nutrients then they're waiting to get filled, if you eat processed foods full of toxins, then the receptors become filled with toxins. By switching to a clean healthy diet, you're getting those nutrients. You're actually putting those nutrients back into the cells so your system can start working and function properly again.
Eat what Mother Nature has provided us with, not what man has made in a factory. These foods somewhat resemble their original form, but they are more food-like substances with lots of additives and preservatives. Choose more foods that don't come in a package, without flashy food labels. The foods that don't claim to have all these 'health benefits' are the more nutrient-dense, like fresh fruit and vegetables, which don't come with food labels at all.
Look for fresh, whole foods when you're grocery shopping, and think of it as eating food, not calories. If you eat a balanced diet most of the time, your body will most likely respond by finding balance and health—no calorie counting required.
Michael Pollan says everything he's learned about food and health can be summed up in seven words:
"Eat food, not too much, mostly plants."
This is when I started to realize that the quality of the food is more important than the quantity. The same is true for exercise, I stopped doing cardio exercises every day and started adding in more yoga and Pilates. I learned to be kind to my body, not eating properly and overdoing my exercising was causing stress and strain on my body, and that doesn't help to regulate it to function properly at all.
Our most important asset is our health, so we need to take care of and protect it as best we can!
Next week I'm going to go over how to actually read nutrition labels and the most important thing to look at!
Here's to your health,
~Lorraine
---
Do You Suffer from Low Energy, Weight Gain, or Digestive Issues?
I have two NEW online programs to help you!