Yahh!! The summer weather is finally here; bring on the shorts, tank tops, swimming pools, flip flops, gardening…, anything to be outside! We have definitely been waiting for the warmth to shed some clothing layers, but if you are outside for any length of time, you realize we are not the only ones excited about getting outside…
Yup, those pesky insects… The black flies, mosquitos, horse flies, moose flies… the list goes on. They love having us come outside, don't they?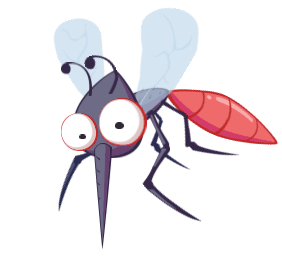 When you get a bug bite, the venom injected into your body from the bite or sting of an insect will cause your immune system to respond. Often, your body's immediate response will include redness and swelling at the site of the bite or sting. Minor delayed reactions include itching and soreness.
Those bug bites are a sign of a life lived outdoors! But what can we do to get rid of the itch that goes along with the summer bug bites?
My No-More-Itch stick with essential oils is an effective, natural bug bite itch relief!
If you're looking for something to put on your skin that isn't full of toxic chemicals then these are for you! Just rub your itch stick right over the bite and voila-natural bug itch relief.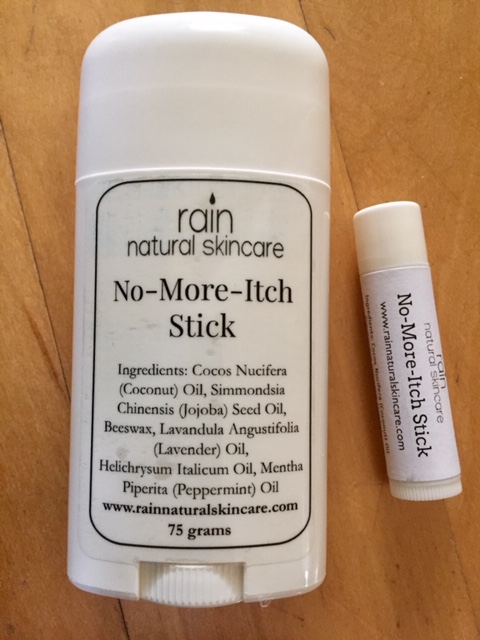 When I googled the ingredients for a popular after-bite stick, these were the ingredients: Ammonia, Cyclohexasiloxane, and Cyclopentasiloxane (aka, not something that I want to put on my skin!)
My No-More-Itch Sticks are handcrafted with plant oils that will stop the itch, reduce inflammation and help to reduce the risk of infection.
Here are the ingredients and their amazing qualities:
Coconut oil, when applied to bug bites, forms a thin layer on the affected area of the skin which helps protect it from any bacteria. The antibacterial properties of coconut oil prevent any germs from entering the body through the bite. Cold-pressed coconut oil is soothing, softening and hydrating. The medium-chain fatty acids present in coconut oil, especially lauric acid, capric acid and caprylic acid, have been shown to possess antibacterial, anti-inflammatory, antiviral and antifungal properties. It also contains antioxidants which help fight free radicals thereby keeping the skin looking younger!
Jojoba oil is balancing, softening, nourishing, and soothing; leaving a silky feeling on the skin. It's an anti-inflammatory; it forms a thin layer on the skin preventing transepidermal water loss, therefore keeping your skin hydrated.
Beeswax acts as an occlusive which means it creates a barrier on the surface of your skin which slows the natural evaporation of water. Beeswax is useful in my No-More-Itch Stick as it not only calms your skin but also forms a protective layer on the skin.
Lavender and Helichrysum essential oils are very healing, reducing inflammation and irritation fast. Peppermint essential oil is cooling, which is a great way to stop the itch!
To use: Apply as often as needed over the infected area for relief.
My No-More-Itch Sticks are $4.00 for 4.5 grams and $15.00 for 75 grams. You can purchase them here, or at Totally Local in Truro and The Crafty Shore in Tatamagouche.
---
If you're looking to change up your skincare products and understand what ingredients you are using on your skin, you may want to try Rain Natural Skincare products.
If you have any questions, send those to hello@raninnaturalskincare.com
~ Lorraine