Last week I talked about Natural Skincare, what it means to me and how important it is for all of us to think about what we are putting on our skin. Another significant aspect of using natural skin care products I find extremely important is using products that come from natural sources, which are unrefined and certified fair trade.
Being an entrepreneur, you become more aware of how much work and effort is involved in making a fantastic product, but more importantly, the work that happens behind the scenes to get you there. By that, I mean where my ingredients came from and how they are sourced and made available. There are many ways to strip the earth of our precious natural plants and trees and not think twice about how that impacts the environment or what it is doing for the people who work in that industry.
Therefore, I take the time to source out ingredients that are sustainable to the environment and also provide fair payment to producers and workers that make it. One amazing example of that is the company I purchase my shea butter from.
Baraka Shea Butter is a small Canadian company that wants to make a difference. They get their shea butter from the Wali community in northern Ghana and provide fair payment to the women who make the butter to support their families and communities. They create high-quality products that are created in a fair, equitable and environmentally sustainable manner.
Baraka Shea Butter is created 100% handmade using the age-old traditions passed down through generations. Not only that, but their shea butter is nourishing, natural and best of all, there's no chemicals or additives, no animal testing, and no harsh industrial processing. These values are values that I share and want to bring into my Rain Natural Skincare products for everyone to benefit from.
On my last order of Baraka Shea Butter, they were giving away a small pack of shea nuts (seeds) from this year's crop, the same ones used to make the shea butter as a "thank you". So I decided I wanted to share with you where I buy my butter from and how shea butter is made.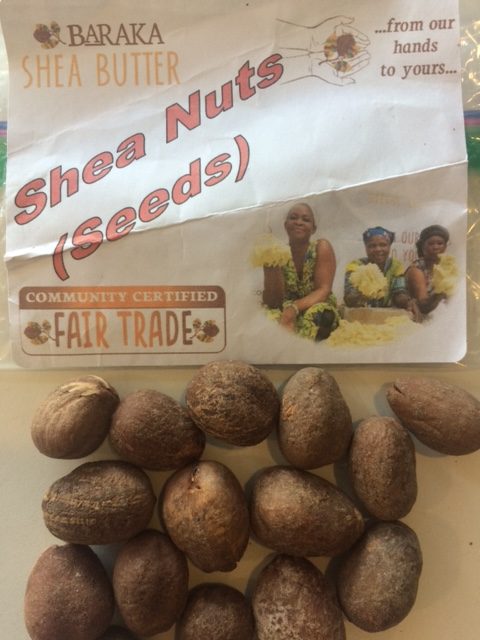 Baraka Shea Butter is made from the shea nuts by collecting the fruit that has fallen from the Shea trees, which grow wild in northern Ghana and cover vast areas of the Savannah. Once the fruit has been collected, it is cleaned, dried and husked and then it's ground into small pieces. These pieces are then roasted to prepare them to release the oils and fats that eventually turn into the shea butter. They are ground again and then the oils and fats are churned and whipped until it reaches the right consistency. Then it needs to be cooked, skimmed, strained and left to cool and solidify. This is an amazing and long age-old technique that has been passed down through the generations from their ancestors. For centuries these women have used shea butter on their skin for the healing and moisturizing qualities it provides.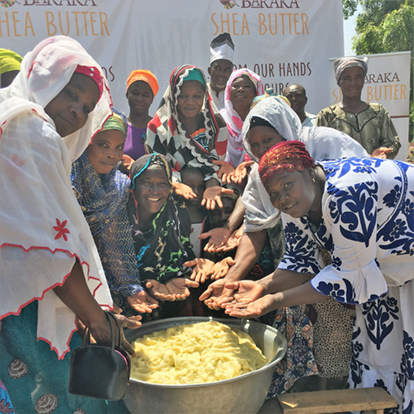 ---
Double Impact Shea Butter
Unrefined shea butter has amazing skincare properties, it comes with healing, regenerative and restorative qualities. But working with the women and communities who make the shea butter is just as important. Baraka Shea Butter is Community Certified Fair Trade, therefore it focuses on the DOUBLE IMPACT. And we all get to benefit from that, first from the healing, restorative and maintenance properties shea butter has on the body, and secondly, from the positive impact the raw, unrefined shea butter has on the women, their families and communities of Ghana.
I don't know about you, but I want to put ingredients on my skin that are handcrafted and traditionally processed, not industrially processed and solvent extracted. By using natural skin care products we are not only making an impact on our skin, but making an impact on the lives of the people who make it, and helping to ensure we are taking care of our world
---
The benefits of using shea butter in my body butter include:
Creates a thicker, creamier consistency.
It's a great skin conditioner as it gives skin a soft and smooth appearance, restores suppleness and improves flexibility.
It forms a protective layer that reduces trans-epidermal water loss, therefore, increasing moisture retention.
Oleic acid increases skin cell regeneration.
It's rich in antioxidants.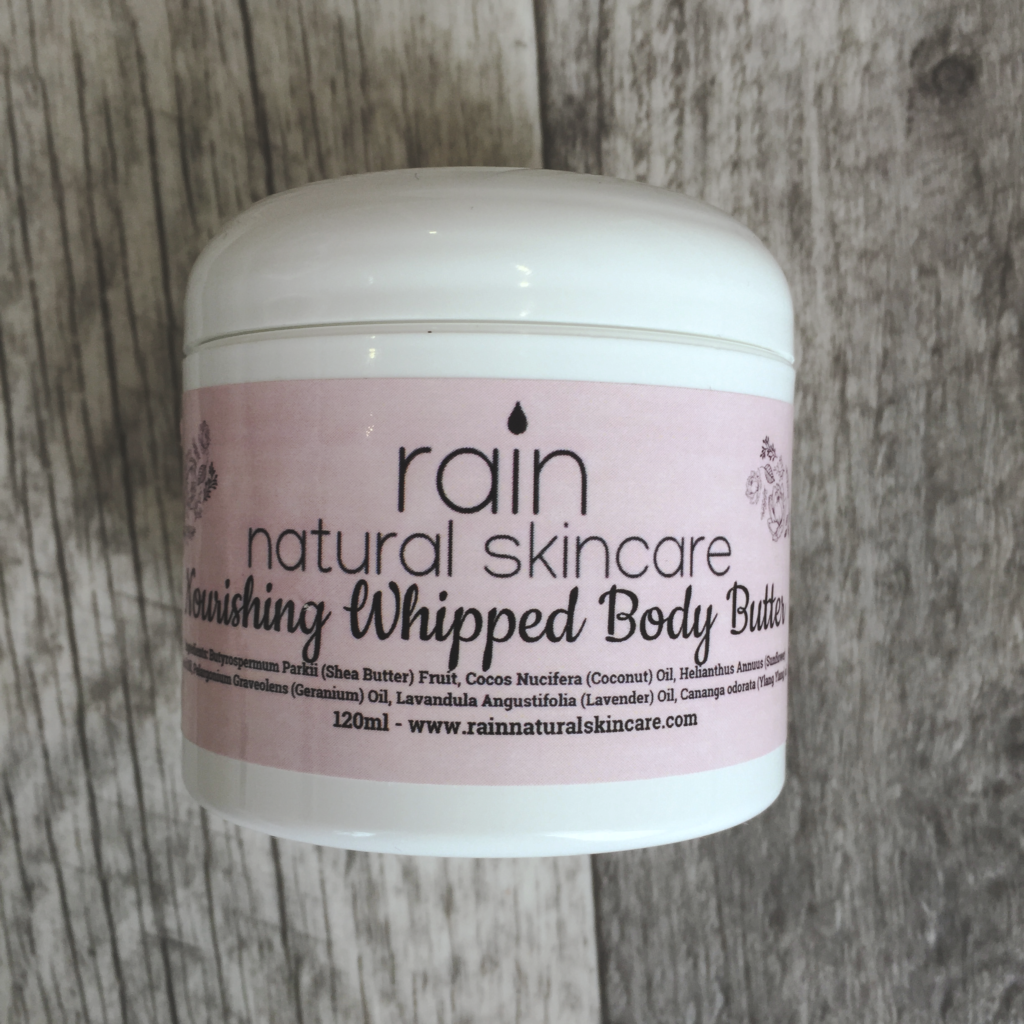 Shop my body butter, and all my products here on my Shop page, or come purchase in person at the Truro Farmers Market.
If you're interested in which Farmers Market I'll be at each weekend, follow me on Facebook, or join my email newsletter list to get the inside scoop each week!
Thanks for helping me make an impact with my products; we give back when we do it together.
~ Lorraine