Dry, cracked heels can make even the simplest tasks, like walking, uncomfortable, and using your normal lotions and moisturizers may not effectively provide relief. Using home remedies for severely dry skin is a simple, affordable option for lasting relief.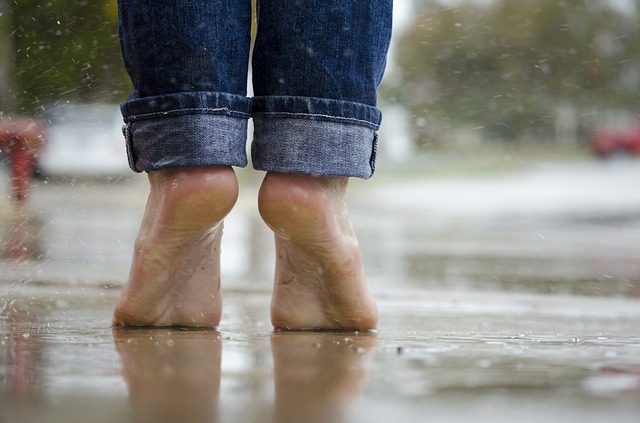 A wide range of home remedies is available to soothe and heal dry, cracked heels, including these easy at-home treatment options.
Soak and Exfoliate
Cracked heels are often accompanied by a layer of thick, hard skin, often called a callus, which slows the healing process. To remove the callus and speed healing, soak your feet in warm, soapy water for about thirty minutes, and gently scrub your heels with a pumice stone to remove the layer of dry skin.
If a pumice stone is too rough, try using a loofah to scrub the dry skin away. My Sugar Scrubs also work very well as the exfoliation comes from the sugar, and leaves a wonderful moisturizing behind with the coconut and olive oils. After exfoliating with a pumice stone, loofah, or sugar scrub, you should immediately dry and moisturize your feet.
Body butter is an excellent option as it contains rich emollients that protect and moisturizes dry, cracked skin. My Soothing Calendula Butter helps even more with the addition of calendula-infused oil to help heal, soothe and calm extremely dry skin. Calendula oil has antifungal, anti-inflammatory, and antibacterial properties that might make it useful in healing wounds and soothing dry skin. Avoid scrubbing your feet when they're dry, as this increases your risk of damaged skin.
Use body butter in the morning after a shower to increase skin's elasticity before you start your day; moisturize your heels two to three times a day At night you can put a thick layer of the body butter on each heel and put socks on to keep the butter in place (and not all over your sheets). Wear the socks overnight, or for as long as possible, to promote healing.
If you're looking for a natural home remedy for cracked heels, that uses natural healing ingredients, you may find relief in your own kitchen.
---
Naturally Healing Fruit Packs
Fruit packs are a simple option to treat cracked heels. To make a fruit pack, mash a banana thoroughly, spread the mashed fruit over your heels, and put socks on to keep the fruit pack in place. Leave the banana on your feet for at least 20 minutes and apply a moisturizer after washing the fruit pack off of your feet.
You can also leave the banana on overnight if you want to promote faster healing. Other ways to use natural ingredients to heal cracked heels include the following:
Mash an avocado, rub it onto your heels, and allow it to remain for at least 20 minutes before washing and moisturizing your feet.
Mix equal amounts of olive oil and oatmeal to make an exfoliating paste that soothes irritation.
Spread a thin layer of honey on each heel for an antimicrobial, antioxidant-rich home remedy that naturally speeds healing.
Massage your heels with cold-pressed coconut oil to moisturize the skin and help prevent both bacterial and fungal infections. My Nourishing Whipped Body Butter has coconut oil as well as shea butter for extra bacterial protection.
You can leave most food-based home remedies on your feet overnight for faster symptom relief, but you may want to protect your bed and blankets with an extra sheet in case you lose your socks while you sleep.
---
Preventing Dry Skin
You can take steps to prevent the dry skin that causes cracked heels. Some simple preventative methods include:
wearing shoes that cover your heel and making sure your shoes fit properly
avoid standing in one position or sitting with your legs crossed for long periods of time. Think about your circulation and how the blood and oxygen need to get all the way to your feet too.
stay away from harsh soaps that can strip your skin of its natural oils
take warm showers or baths, rather than hot
drinking plenty of water to keep your skin well-hydrated is extremely important.
Regularly soaking, exfoliating, and moisturizing your feet are the most effective ways to prevent cracked heels. Add Epsom salt to warm water for a healing foot soak that encourages good circulation in your feet, or add one part vinegar to two parts water to your foot soak to prevent infections if you currently have cracked heels.
Please note, regarding medical causes
High blood sugar and poor circulation resulting from diabetes are common causes of dry skin. Nerve damage may prevent you from knowing your feet are dry, cracked, and painful. Do not treat cracked heels on your own if they're caused by a medical condition. Special treatment from a podiatrist (foot doctor) may be needed.
---
Home remedies can provide lasting relief using natural products and ingredients, offering you a simpler, safer approach to healing and taking care of your skin and your health.
To Your Health and Beuty,
~ Lorraine