A jade roller actually looks like a mini paint roller and is made of jade stone, designed to be swept across the face for a cooling sensation and anti-inflammatory, lymph-draining effect. The rollers are also said to have mystical powers, as the jade stone itself is said to represent healing and protection and promote qualities such as wisdom, balance, and peace. (Yes please!).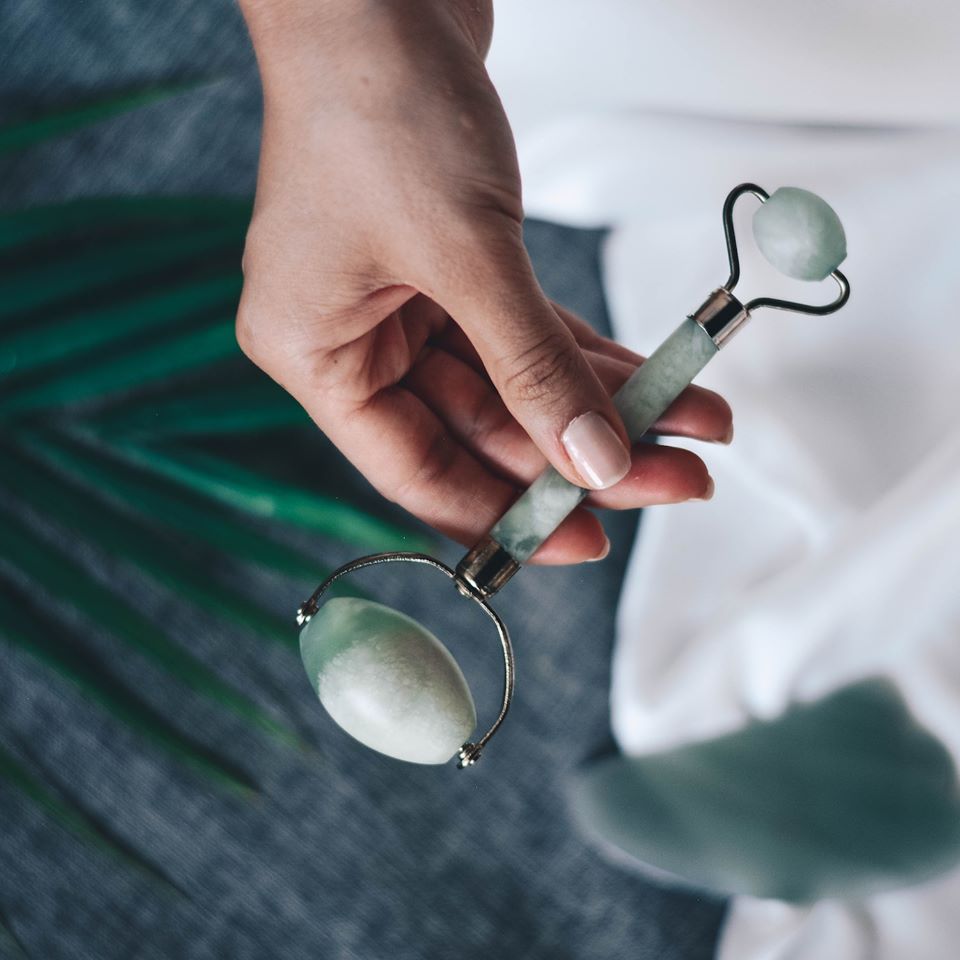 WHAT ARE THE BENEFITS?
Our body has a lymphatic system which is a circulatory system made up of lymph vessels, which are much like blood vessels. The only difference is our actual circulatory system has a pump – the heart. The lymphatic system doesn't have a pump, so unless you move the fluid yourself; it becomes stagnant and holds toxins in the tissues. A Jade Roller helps by controlling your ability to eliminate toxins. The lymphatic system is very close to the surface of our skin and is why the removal of toxins not only helps our immunity but also increases the flow under our skin.
WHY YOU SHOULD USE ONE?
The search for beauty has been ongoing for many centuries beginning with the Greeks, Egyptians, and the Ancient Chinese all using some form of beauty treatment. Today, beauty is so sought after that people are paying huge amounts of money to have cosmetic procedures carried out in search of the fountain of youth.
Rather than paying big money for cosmetic procedures, let's look at other ways we can help to have healthy skin.
There are certain things that are not within our control and do damage to our skin daily, such as exposure to environmental pollutants, toxins, and allergens. However, finding practical solutions is in our control. Today people are more inclined to want to find natural solutions for their skin. Natural treatments and skincare products that are meant to calm and detoxify our skin, giving a holistic approach to improving our health.
There is a skincare tool that can help our skin and that has surprisingly been around for many centuries… the Jade Roller!
Jade rollers can renew your skin complexion by promoting the growth of new skin cells. They reduce the appearance of aging signs and bring back a natural facial glow. They could ideally be the secret to a completely rejuvenated and refreshed skin.
Jade rollers date back to the 17th century and were used in Chinese skincare. They are known to excrete harmful toxins and move stagnant 'life force' (Qi) – (pronounced chi) in Traditional Chinese Medicine. Jade rollers are very helpful in increasing the production of collagen and elastin in our skin to maintain its youthful look and bring back its natural glow.
Jade rollers are primarily used for facilitating lymphatic drainage, which is primarily used over the facial region. Imagine they are your mini face massager, as they are being rolled over the facial region; they drain the accumulated lymphatic fluid and send it to the core lymphatic drainage which is located at the base of the neck. They are also designed to increase blood circulation around the facial region in order to increase the supply of oxygenated blood.
---
Putting a serum on your face first is wonderful to break the friction between your skin and the roller and provide a smooth treatment experience. The best part is rolling over a serum, you will have maximized its benefit to your skin. You don't want to use it on dry skin and have unnecessary dragging which can pull on the delicate skin.
BENEFITS:
Plumps fine lines & reduces cell turnover time
Helps close & minimize enlarged pores
Relief from tension headaches when rolled over temples
Tones facial muscles for improved elasticity
Increases oxygen levels in the blood
Promotes lymphatic drainage & improves blood circulation
Clears toxins from the skin & reduces inflammation
Reduces the appearance of puffiness & wrinkles around the eyes
Minimizes spots around chin & jawline caused by a build-up of toxins
Brightens complexion & brings about a youthful glow
Aides in releasing blocked sinus congestion & pain
HOW TO USE:
Roll from the centre, out. Think about splitting your face in half right down the centre from top to bottom and work on one side at a time to make sure you're not skipping anything. Apply a serum or cream first.
Start at your chest and using gentle pressure, use outward and upward strokes with the large stone of the jade roller along your skin. Pass over the same patch of skin three to four times, always moving to the outer edge of your face. When you need to return the roller to the starting point, pick it up and place it back at the start (don't roll back as we want to move the puffiness to the sides of your face to drain).
From your chest, using the larger stone, move up to your neck, chin/jawline, cheeks (roll from your nose out toward your ear), under-eye and eyelid (use the small end of the roller here and very gently move from the inner corner of your eye out to the temple), eyebrow (switch back to the larger side and roll out and down, following the contour of your brow bone), forehead (start in the middle and roll out).
Switch sides and do the exact same thing on the other side of your face. Finish with a soothing upward roll from between your eyebrows, up to the hairline. Then lastly, clear the lymph from the outer edge of the face, rolling the roller from the temples down to the neck for lymphatic drainage.
The whole process should take 2 to 4 minutes, depending on how many passes you're doing and how many areas of the face you're hitting. As you're working the jade face roller, you'll see your skin start to flush — this is a good thing! It means circulation is increasing.
Make sure that you clean your roller with warm water and soap, and then dry it.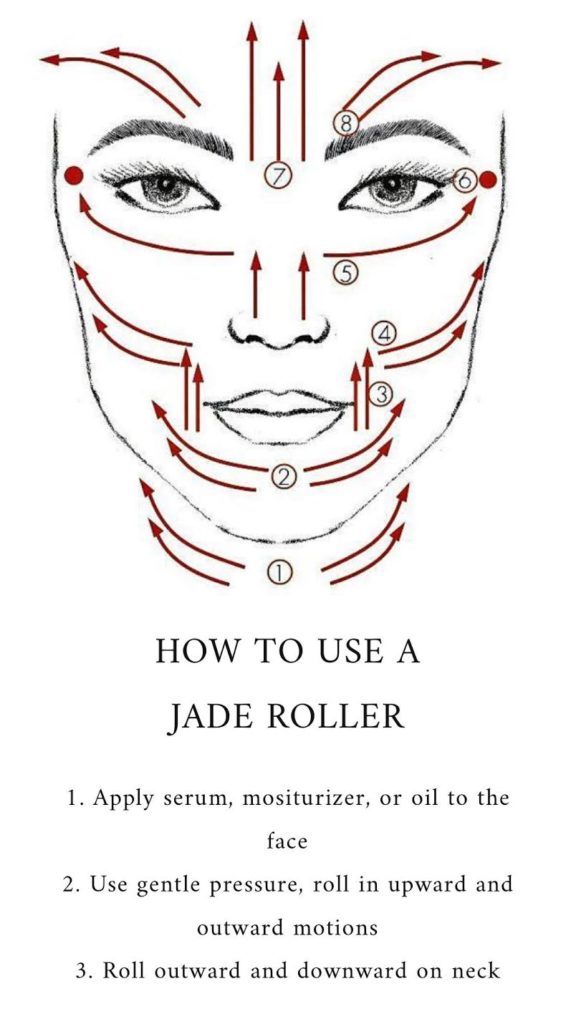 What to Expect:
You will see a refreshed look, feel relief from facial tension, and will have your lymph moving again, replenishing your cells. You will have worked out knots of tension that were blocking the energetic flow and nutrients. Your face will feel "toned" and "relaxed. Essentially, your facial muscles have been activated and your immune system has awoken to do its job by sending toxins to the kidneys.
---
This is a very simple beauty routine that should be about taking time for yourself. Make sure you indulge in these skin-soothing benefits and healing energies on a regular basis for the body, mind, and soul!
~ Lorraine