What You Need to Know to Soften and Nourish Dry Skin
We are so lucky to live in the Northern Hemisphere; we get to experience the changing seasons and changing temperatures. But for those of you who have dry skin, you know that the cold winter weather can make things even worse for your tender skin! Winter weather means we need extra protection from the cold and dry air.

Even if your skin isn't dry all year round, chilly weather and icy air can definitely change up your skin's trouble spots. It can be a constant struggle to keep your skin hydrated and happy.

Whether your skin is chapped from wind and exposure, or it just needs a little bit of TLC, there are many wonderful products out there that are really effective at pampering your dry skin.

And here's the secret: Your dry skin can feel silky-soft and smooth in less time than you might think!

Creams, lotions, and body butters are the perfect companions to help soothe dry skin and I want to show you how!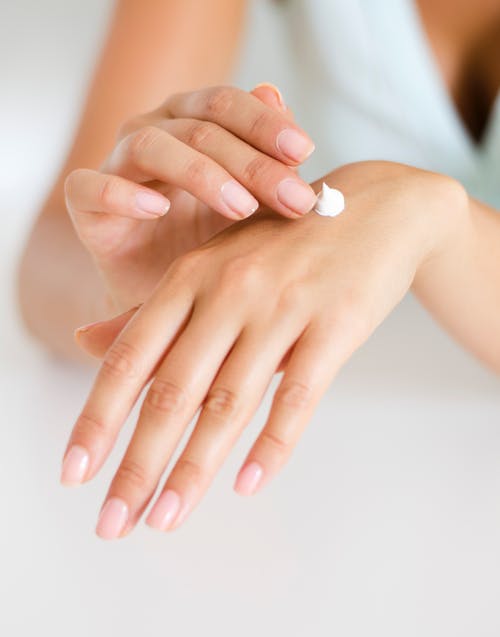 So, which product is the best choice to use for your skin?

One of the most amazing products for rich skin-softening is body butters. These oil-based products are thick, nourishing, and protective, helping to make the skin silky, soft, and smooth, so they definitely have their place among the best rich skincare products.

However, if you're only using oil-based products on your skin, you might not be providing the right kind of long-term hydration, moisture, and healing.

Here's why…

Oils make the skin softer, but that doesn't mean hydrated.

Water is needed daily in large amounts to support all bodily functions including a proper balance of fluid inside and outside our bodies. It's water that hydrates the skin and oil-based products alone can't hydrate because they are oil-based—they don't have water in them. Water can't be absorbed into your skin because it isn't there in the first place!
Therefore, if you've been relying on body butters or other oil-based products mainly for your dry skin, and you're not seeing long-term softening results, this might be part of the problem.

Butters and oils are very important for your skin, so don't discount them completely….Just know what it is they can do, and what they can't, especially if you have a specific skincare goal in mind. And for dry skin, butters and oils are just a part of the puzzle.

In order for the skin to be healthy, hydrated, and functioning properly, it needs both water and oils. Water will plump the skin and prevent the cells from drying out. Don't forget, drinking lots of water helps this too.

The cells in the skin are surrounded by fats which protect the skin from dehydration. This is called the moisture barrier and in order for it to work, our skin needs both water and oils.
When choosing products to help relieve dry skin, you need to choose ingredients that satisfy those jobs:
Water to hydrate
Emollients (such as shea, mango or cocoa butter, and plant oils) soften the rough texture of the skin and provide the needed vitamins to your skin.
Occlusives (like waxes and butters) to keep the moisture from escaping too quickly
In order to get these ingredients for your skin, you need to use lotions and creams, which contain water, oils, and sometimes butters to soften and hydrate. Then to have immediate softness, use a body butter to really get in there and provide moisturizing for your skin.
Why dry skin loves them all
Butters and occlusives (like beeswax) will help lock in the moisture of the skin and prevent moisture from evaporating, but if there isn't enough moisture in the skin, to begin with, it won't be able to properly moisturize the skin all by itself. You need all of those ingredients together at some point so each can do its job.
Lotions and creams work well for dry skin because they are all-in-one combinations of water (to provide moisture to the skin), humectants (to attract more moisture to the skin), emollients (to soften the upper layers of the skin), and occlusives (to prevent water from evaporating from the skin.)
By using butters only, you are completely missing out on the water, and since you are only applying oils and butters, this means that if your skin is not well hydrated, long-term use of butters and balms can actually make it even drier!
So what can you do?
I like to change up my after-shower application, perhaps one day it's a soothing lotion, and the next day it's moisturizing body butter. Or, I will use a lotion in the morning and body butter at night before I go to bed for those extra dry areas, like my feet, legs, arms, torso, etc. (OK, I guess everywhere)! Try using both and not relying on just one to hydrate, soothe, soften and moisturize.
Don't just live with dry skin—repair it!
Dry skin may require a gentler touch and more specialized products to treat it, but it isn't a lost cause! There are lots of wonderful, natural products that you can use to help with most types of dry skin.
Here's a great read about my Calendula Body Butter and its healing properties from the Calendula flower.
Here are a few of my products that can help.
~ Lorraine