Did you know that glowing skin starts within? Or that what you eat equals the health of your skin? Are you interested in boosting your health, wellness and glowing skin?
What we're putting onto our bodies definitely matters, but a huge impact is what we put into our bodies. Every mouthful of food we eat is literally building all our cells. Good nutrition equals smooth skin, strong nails, hair, and good cellular health.

Natural beauty may seem out of reach, or at least a bit difficult to achieve. But it's really not. We can all be naturally beautiful and have glowing skin with ingredients you likely already have in your kitchen.

The best and most bioavailable way to get your nutrients, vitamins and minerals is from food sources. Consume these vitamins regularly for healthy ageing and healthy skin throughout your life.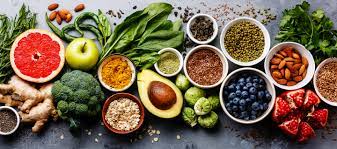 Vitamin E
This antioxidant can help the skin to heal from sun exposure by protecting the cell membranes. It helps to defend our cells from damage by heavy metals such as lead, mercury, toxins, and environmental pollutants. Natural sources include nuts and seeds, leafy green vegetables, and avocados.
Vitamin K
Many people don't realize how incredible this vitamin can improve your skin health and appearance. You can even out your skin tone and texture by eating vitamin K-rich foods, including eggs, and green leafy vegetables such as spinach, broccoli, Brussels sprouts, and kale.
Vitamin C
Citrus fruits, such as oranges, lemons, and limes, are an excellent source of vitamin C. This antioxidant is also found in red peppers, kiwi, strawberries, broccoli, cauliflower, bok choy, and brussels sprouts. Vitamin C helps with the formation of collagen, which is the protein that forms the base of all connective tissue in the body. You need to consume adequate amounts of this water-soluble vitamin daily to reap the hydrating and healing benefits associated with it.
Vitamin B3
Also known as niacin, vitamin B3 is essential for a healthy metabolism and digestive tract. You can have stronger skin with greater elasticity and moisture retention abilities. Chicken, fish, legumes, sweet potatoes, mushrooms, and asparagus are easy ways to obtain your daily dose.
Vitamins B6
If you suffer from dry skin conditions, are concerned about your cognitive health, or feel lethargic, you should be eating foods loaded with B6, like spinach and chicken breast. Fish, brown rice, sunflower seeds, bananas, and broccoli are also rich in this vital nutrient, which can protect your eye health, reduce your blood pressure, regulate sleep cycles and is important for our immune system.
Vitamin A
Plants contain provitamin A compounds called carotenoids. These are found in yellow, red, and orange fruits and vegetables. Eating foods such as apricots, cantaloupe, carrots, red peppers, sweet potatoes, mangoes, leafy greens, and broccoli will help to reach your necessary requirements. Vitamin A regulates blood flow to the skin and helps to rejuvenate skin cells.
By using natural skin care products, we are helping to take care of the skin's outer surface. Then, eating foods with these vitamins each day will give your body what it needs to thrive both inside and outside. You deserve to look as vibrant as you feel, so eat well and take good care of yourself!
To your health and beauty,
~ Lorraine