During this busy time of the year, we are all looking for something easy and quick to make and take somewhere or just keep for ourselves as a little treat.
I've made this Chocolate Peppermint Bark many, many times and it's always been a huge hit. I always have lots of people asking for the recipe each year, so I thought I'd share it with you all!
If you're not a fan of candy canes, I have options for you. Try chopped nuts, dried cranberries, pumpkin and sunflower seeds, or whatever you think would go with chocolate….um everything!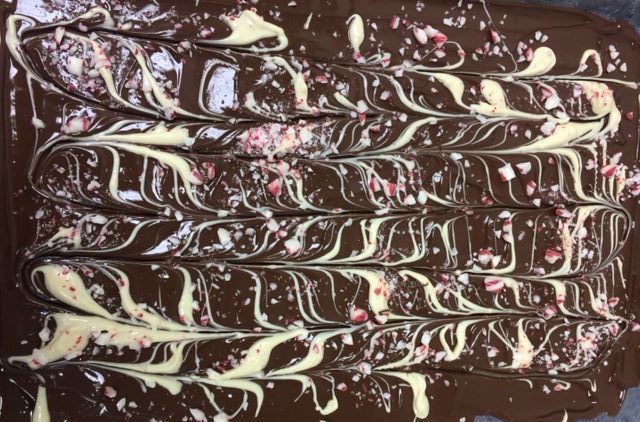 Chocolate Peppermint Bark
A simple and festive treat. Easy to make, and freezes well (if you happen to have any leftovers, which I never do!)
Ingredients
1 bag Chocolate Chips or dark chocolate bar
1/2-1 tsp. Peppermint Extract *choose the amount depending on how "minty" you'd like them
3 tbsp. White Chocolate Chips
1 1/4 tsp. Coconut Oil
1-2 Candy Canes or candy cane pieces -which I've seen at Bulk Barn
Instructions
Line a cookie sheet with parchment paper.
Melt chocolate chips with 1 tsp of coconut oil, then put in a bit of peppermint extract. Spread on the sheet.
Melt white chocolate chips with 1/4 tsp. coconut oil, drizzle on the chocolate. (I took a butter knife and drug it through them both to make a design!)
Put 1-2 candy canes into a blender to chop up and sprinkle them on top of the chocolate.
Put into the fridge for a few minutes until they slightly harden.
Use a pizza cutter, or with a knife cut out squares, then put them back in the fridge until hard. Or, you can just let harden completely and break into different size pieces when solid.
Enjoy, and Merry Christmas!
~ Lorraine