Have you ever heard that you should eat more colours in your meals? This is very important, and no, it doesn't include eating artificially coloured things like Skittles or M&Ms (Sorry)!
We should be eating a variety of colourful fruits and vegetables, legumes, spices, herbs, nuts, seeds, and teas. Processed foods like white pasta, rice, bread, and pastries don't offer any nutrients as they have all been stripped during processing. By refining them, all of their vitamins and minerals are taken out. These vitamins and minerals are what we need to keep us healthy.
Plants are amazing; they have vitamins, minerals, phytonutrients and antioxidants which can rebuild the cells in our bodies.  They play important roles in protecting our health and preventing chronic diseases, such as inflammation, slowing down premature aging, supporting sight, protecting the brain, fighting free radical damage and assisting our immune system. Each colourful plant adds different nutrients that are beneficial to our bodies. By eating a variety of colourful foods, you can provide your body with the essential nutrition it needs.
The best way to get all of these important nutrients into our bodies is by eating as close to natural as possible, such as organic and naturally grown. Try drinking herbal teas to get the wonderful healing benefits that herbs possess.
During the last few decades, we've seen a significant rise in alternative therapies that rely on or incorporate herbal medicine: homeopathy, herbalism, aromatherapy, acupuncture, Ayurveda and more.
And of course, plants are amazing and powerful when used in skincare too!
That's the beauty and power of nature! So much potential is there, just waiting to be discovered, and there are so many ways to use these natural ingredients in your skincare products too!
The trend in Natural Skincare is increasing at a fast pace!
Herbs and plant oils are so amazing and do wonders for our skin. Here are a few examples:
Carrier Oils
Carrier oils are oils that have been extracted from seeds, nuts, and stones or kernels of plants through a process of compression—cold pressing, which is literally crushing the stone, seed, kernel or nut to release the oil. Examples include:
Avocado (stone/kernel)
Macadamia (nut)
Rosehip (seeds)
These oils are packed full of fatty acids and other beneficial ingredients such as phytosterols, vitamins, carotenoids, and squalane. When oils are applied to the skin they fill up small spaces between epidermal cells, which is seen and felt as smoother, healthier and softer skin. Oils can have other benefits too such as regenerating, anti-inflammatory, anti-microbial, improving elasticity and improving the skin barrier function.
Macerated Oils
Macerated oils, also called infused oils, are when dried herbs—or other flowers, petals, or leaves—are placed in a carrier oil and left for four to six weeks to infuse. During that time, the oil-soluble properties of the plant are transferred to the carrier oil.
This is useful when a herb or plant has a very low or no carrier oil yield but possesses strong healing qualities—Calendula is a great example of this! After the process is complete, you're left with a supercharged, specialist carrier oil.
You can read more about the healing benefits of Calendula oil here. Besides calendula, I also infuse and use in my products:
Carrot Tissue Oil
St. John's Wort Oil
Arnica Oil
Chickweed Herb Oil
Chamomile Oil
Essential Oils
Essential oils are oils that have been extracted from plants through a process of distillation using steam. They can be extracted from a variety of plant parts: leaves, bark, flowers, petals, roots, stems, grasses, herbs, and fruits.
Of course, many essential oils are derived from herbs – lavender, rosemary, marjoram, sage, peppermint, basil, chamomile, and thyme to name a few.
Once extracted, the oil that remains contains a concentrated fragrance with many therapeutic and sensory qualities! Essential oils can help to lift our mood or calm our nerves, raise our spirits or relax the senses. And they can also offer profound functional qualities as well.
When used in skincare product formulation, these qualities can include helping to:
Improve local blood circulation
Encourage a glowing complexion
Promote healthy skin growth and cellular renewal
Repair the skin's barrier layer
Clean and cleanse the skin
Kill and clear harmful microbes
Balance sebum production
Or add a wonderful deodorizing effect
---
This week as I was making my Revitalizing Anti-Aging Day Cream I was in awe of the beautifully vibrant colours, so much so that I wanted to share the importance of plants with you and took these pictures.
On the left is Macadamia nut oil, in the centre is Avocado oil and on the right is Rosehip seed oil. Aren't they beautiful, and all three are in my Anti-Aging Day Cream!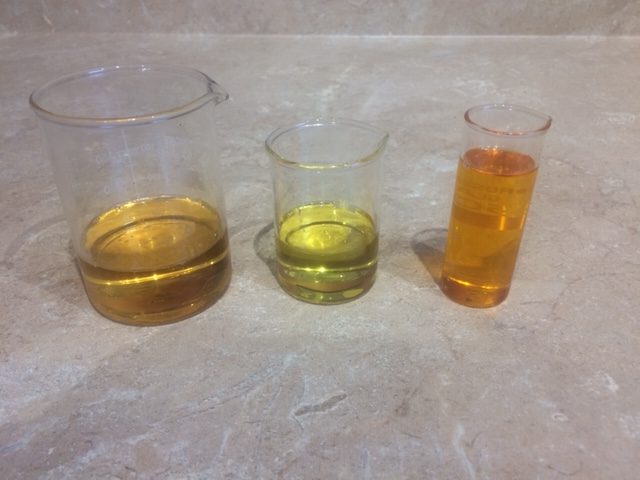 Below is my calendula oil that I infuse with the flowers to get all the amazing benefits they offer then put in my Calendula Body Butter, Healing Herbal Hand Cream, and Orange Calendula Lip Balm. That intense yellow colour from the flowers is incredible, isn't it?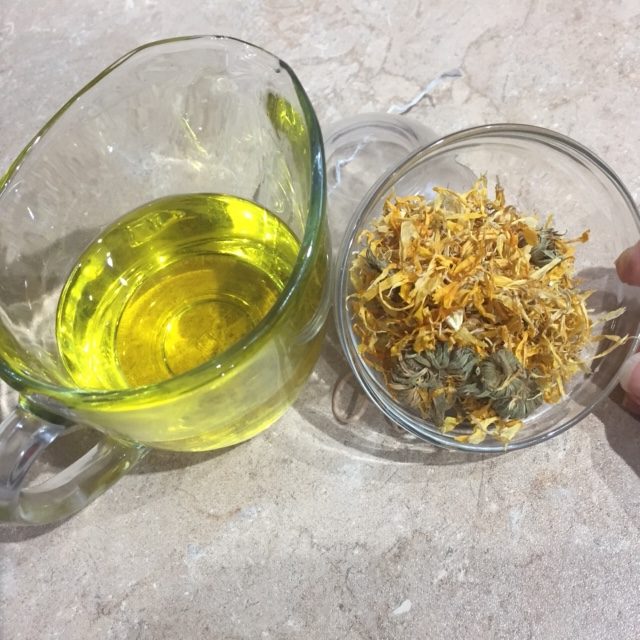 The more that we learn about these wonderful, nature-given ingredients, the more we want to incorporate them into our own healing and restorative practices.
How will you bring more natural health and colour into your life?
~ Lorraine