Toners, spritzers and mists are water-based liquid skincare products. They can seem quite similar, but the ingredients in them will make them quite unique to different skin types and give distinctive benefits to each. They prime your skin for products such as serums or moisturizers.
Spritzers and mists are two words that are used for the same product. They come in a spray bottle and are used to hydrate the skin and are spritzed on before a serum, facial oil or moisturizer, and can also be sprayed on during the day to refresh and hydrate the skin. They can be used to set make-up and help to reveal your skin's natural radiance.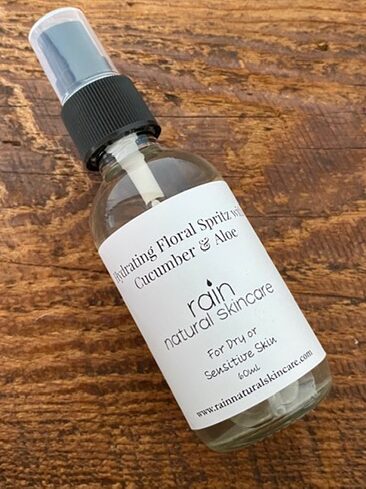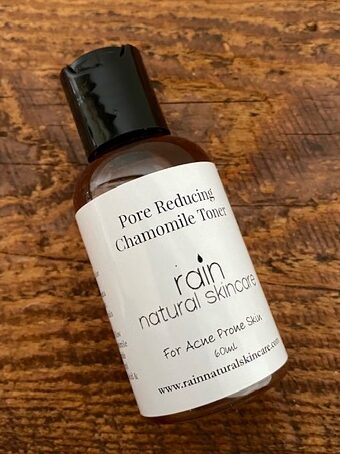 Toners are used to remove the last traces of makeup and dirt after cleansing, to freshen and hydrate the skin and get the skin ready for moisturizers and serums. They are applied using a cotton pad, a reusable makeup pad, or sprayed onto the face.
HOW TONERS AND SPRITZERS/MISTS WORK
They are hydrating and refreshing, especially when they are water-based, they are meant to invigorate and provide moisture to the skin. Depending on the ingredients used, toners and spritzers can also bring other benefits such as being soothing, helping to balance sebum production, balancing pH, reducing inflammation, etc. Some facial cleansing products have an alkaline pH (such as soap), and toners are often used to bring skin pH levels back into a happier slightly acidic range.
Spritzers and mists are great if you enjoy lightly floral scents and want a cool refreshed look and feel throughout the day. It's good for all skin types but particularly suited for dry skin.
Functions of a spritz/mist:
Hydrating and refreshing, can help set make-up as well as enhance skin's natural radiance and replenish skins moisture throughout the day
Soothe irritations such as sunburnt skin
Help balance skin's oil production
Enhance natural skin radiance
Help balance skin's pH
Can be used several times throughout the day on their own
Sprayed onto face
There's no alcohol
Easy to apply on the skin and fast-absorbing.
Toners are usually applied to the skin after cleansing. They can be used to remove any cleanser residue, to balance the skin's pH (especially if a cleanser with a high pH was used), to hydrate the skin and to prepare the skin for the following products in the skincare routine. Toners can be astringent and help to reduce oiliness, so can be beneficial to oily skin.
Functions of toners:
They help to remove oils, make-up, pollution/dust, and anything else that wasn't removed by your cleanser
Replenish skin with what cleansers may have removed by using hydrating and soothing ingredients
Hydrate and soothe skin
Balance skin's pH levels
Use in the morning and nighttime skincare routines (after cleansing, before moisturizing)
INSTRUCTIONS FOR USE
Toners can be used as part of a morning and evening skincare routine. They are applied with a cotton pad that is swept over the face, helping to remove dead skin cells and other impurities. Mists and spritzers can be included in a morning and evening skincare routine and also applied throughout the day when required.
Depending on the ingredients used in the toners, spritzers and mists, they can be perfect for different skin types and conditions.
A SMALL SAMPLE OF INGREDIENTS THAT CAN BE USED:
HYDROSOLS properties are similar to the properties of essential oils but in a milder form. They can be hydrating, moisturizing, toning and soothing. and offer their unique scent.
ALOE VERA – soothing and moisturizing, and can calm down irritated skin, hydrate dry skin and promote skin cell regeneration.
HUMECTANTS are used to attract water to and hydrate the skin.
VITAMINS are micronutrients that are essential for normal bodily functions. Examples are panthenol (pro-Vitamin B5), which has cell regenerative properties for the skin, it reduces water loss and helps maintain skin elasticity and softness. Niacinamide (Vitamin B3), has barrier-strengthening and skin-brightening properties and helps reduce hyperpigmentation. It's beneficial for oily and acne-prone skin to balance sebum.
BOTANICAL EXTRACTS can help as antioxidant and anti-inflammatory agents. They are a fantastic way to get the beneficial properties of plants in cosmetic products.
If you don't have a spritzer/mist or toner in your skincare regime, you may want to try one. Make sure they have important nutrients and properties to enhance your skin's health.
If you have dry or sensitive skin, you may want to try my Hydrating Floral Spritz with Cucumber and Aloe. I also have a Pore Reducing Chamomile Toner which helps with oily and acne-prone skin.
If you have any questions, please reach out to ask.
~ Lorraine