I must warn you before I get started that I am a healthy chocoholic! We all have our addictions, and mine is chocolate, but not just any chocolate, I'm talking about the right kind of chocolate which contains at least 70 percent cocoa and is referred to as high-quality dark chocolate. (Actually, I prefer 90-100% chocolate). Make sure to read the label as some say they are dark but are actually only 50% and the rest is sugar and dairy.
As a Holistic Nutrition Practitioner, I have learned what is good and bad for our bodies. I know that store-bought chocolate bars are full of artificial sugars, unhealthy fats and preservatives, so instead, I make my own chocolate.
I wanted to share my recipe with you so you can make your own to enjoy as well! This recipe is super easy, super healthy and can be changed up to your preference. It's like a mixture of a chocolate bar and some yummy fudge.
But first, let's discuss all the goodness of dark chocolate. It's filled with many health benefits such as flavonoids which maintain cardiovascular health and lowers the risk of cancer. Dark chocolate also contains antioxidants which are essential for a strong immune system.
Here are a few other benefits that it can offer:
Reduce your risk of stroke: Research suggests that dark chocolate helps the circulation of blood from and to the heart due to the presence of the compound flavonoid.
Diabetes prevention: Research has shown that one of the major causes of diabetes in your body is inflammation which increases our resistance to insulin as time passes. Dark chocolate helps your body to prevent diabetes by reducing resistance against the body's natural insulin.
Improve the functionality of our brain: Studies suggest that students who eat dark chocolate before an exam perform better. The compounds found in dark chocolate increase the flow of blood to the brain which enhances memory, attention span, problem-solving skills and reaction time. It also boosts the production of the chemical endorphin which is known to make you feel happy and boost your mind.
Cancer Prevention: Research has also shown that the compound flavonoid found in dark chocolate or cocoa helps to prevent cell damage and even has the ability to repair damaged cells and inhibit the growth of tumours.
Skin Health: Minerals and flavonoids present in dark chocolate provide many skin health benefits including protection from sun damage, prevention of premature aging, promotion of cell growth, healing skin, and reducing stress and inflammation.
Weight Loss: If you eat dark chocolate before having dinner, you could eat less. The chemicals in chocolate trigger the hormones in your body that make you feel full and you eat less as a result.
This chocolate recipe is also very different from packaged chocolate in the fact that it is much lower in sugar (and uses more natural sources of sweetener rather than refined sugars), is free from preservatives and added chemicals, is packed with healthy fats from the coconut oil and is full of nutrients and good-for-you real food. The important thing is that it will get rid of any chocolate cravings without raising your blood sugar and the healthy fat will sustain you too.
Here is one of my favorite recipes to keep a healthy lifestyle, while still having something special for me!
---
Healthy Dark Chocolate Bar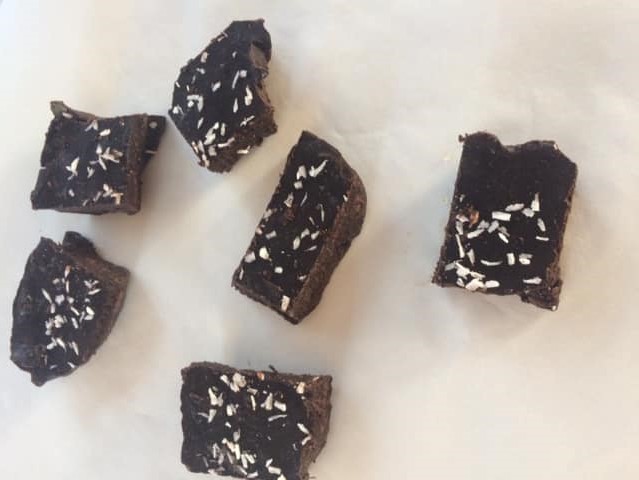 1/2 cup coconut oil (melted)
1-2 tbsp honey or maple syrup (*You can use up to 4 Tbsp. but I used less as I like mine less sweet.)
1/2 cup unsweetened cocoa powder
1/4 tsp vanilla extract
pinch of sea salt
Line a small dish with parchment paper (I used a loaf pan).
In a pot, melt the coconut oil, then whisk in cocoa, honey or maple syrup, vanilla and sea salt until very smooth. (If adding in nuts, coconut, etc. do that now.)
Pour into your dish. Put in the fridge for about an hour until solid. Or you could put it into the freezer for ½ an hour.
Cut it into pieces and enjoy!
Be sure to keep it either in the fridge or freezer as it will melt if left out at room temperature. (It is best to let it melt in your mouth, not your hand – hehe!)
---
Add-in Options: Sometimes I mix in up to 1 cup of mixed nuts, seeds, or dried fruit, such as raw almonds, pumpkin seeds, cranberries, etc.
Or, as you can see in the photo at the top of the recipe, for this batch I sprinkled a bit of unsweetened coconut on the top after it hardened slightly.
This recipe makes a small batch, so if you want to make a larger batch you can double it to share, or hide in the back of the freezer for yourself for later (I won't judge… because I do it too!).
---
Think about how amazing your skin and body could feel with even more nourishing food and healthy habits. If you're ready to clean up your food and feel better, you may be interested in my 30 Day Reset Program. It's worked for me and others, and I know it can work for you, too.
Are you ready to dive deeper into a clean eating program that helps to take your health, life, and energy to the next level?
My 30-Day "Reset" Clean Eating Program is designed to reduce the packaged, toxic foods you're eating and replace them with clean, REAL foods. But it's not just easy-to-make recipes and meal plans, it's also tips, strategies, how-to's, food swaps, grocery shopping guides, food journals, exercise planners, and more that will help you cleanse your body naturally!
---
If you feel your energy level tanks during the day, that you are having a hard time dealing with stress, your patience is very low, and you can't think clearly anymore, then you may be interested in my Endless Energy Program.
It is a 60-page e-book which includes simple, yet very effective ways to help you uncover lasting energy through holistic nutrition advice, simple lifestyle changes, exercise (including an energizing yoga sequence, and a relaxing yoga stretch sequence), breathing (including three breathing exercises), mindset shifts, and more!
It also includes a 7-Day Energizing Meal Plan – which includes a daily guide for breakfast, lunch, supper, and snacks, as well as recipes and a grocery list.
Please reach out to me if you have any questions!
~ Lorraine