Rosehip seed oil comes from the seeds of rose bushes, and is a lovely luxurious and soothing oil with high levels of Vitamins A & C, antioxidants and essential fatty acids that can leave the skin feeling moisturized, glowing and soft! Using a facial serum with rosehip seed oil is beneficial when it comes to a skincare routine and can do wonderful things for your face!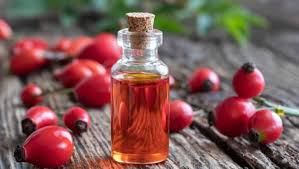 Rosehip seed oil can help to diminish the signs of ageing, such as fine lines and wrinkles. Its botanical properties leave the skin feeling glowing and moisturized! On top of that, the subtle smell and aroma of the oil help calm the mind and body too.
This beautiful oil has high levels of vitamin C which helps to keep the skin moisturized and soft. Here's an interesting fact, rosehip oil is the only plant oil that naturally contains retinol (pro-vitamin A), known to help treat signs of aging and acne scars. It also helps to prevent pigmentation and increases your skin's radiance.
What else can I say; it's one of my favourite botanical oils! ♥
5 Amazing Benefits of Rosehip Seed Oil:
Age Defying:
Rosehip oil is one of the best anti-ageing oils. It contains retinol which decreases the signs of ageing over time, like wrinkles, fine lines, dark spots, and blemishes. When used in a facial serum, it assists as an age-defying agent. I have rosehip oil in my Revitalizing Anti-Aging Day Cream for all of those benefits as well.
Restores Elasticity:
Rosehip seed oil is the only plant oil that naturally contains retinol. Vitamin A improves collagen density, skin elasticity, tone, and texture, and smoothes the surface of the skin. It boosts collagen which further helps in retaining elasticity, resulting in youthful feeling skin. Vitamin A is often called the rejuvenating agent and is beneficial for fading any facial scars or stretch marks…that's why rosehip oil is in my Stretch Mark Belly Butter too!
Treats Dry Skin:
It nourishes and locks in the moisture of the skin, preventing pigmentation, itchiness, and flaking, while increasing your radiance. Specific facial serums are amazing for dry skin because they make a nurturing layer over the skin to keep it hydrated. 
Evens out Skin Tone:
When the anti-aging properties of rosehip oil are in action, they also work to reverse the discolouration of the skin. In other words, it removes dark spots and blemishes to reveal an even skin tone. The vitamins help to repair skin (including scars), reduce acne and can diminish wrinkles.
Nourishes and Hydrates Skin:
Using facial oil serums that have rosehip oil help to lock in the moisture, they keep the skin hydrated and therefore less irritated and inflamed. The oil is also a fantastic natural source of essential fatty acids of omega 3 and 6 that aid skin regeneration, repair and healing.
---
So to sum it up – rosehip oil is a light, non-greasy oil that is quickly absorbed and is such a fantastic natural source of Vitamin A & C, and essential fatty acids – omega 3 and 6 that aid skin regeneration, repair and healing. It is one of the best oils to use for healing specific skin conditions such as burns, cuts, wounds, damage following radiation therapy, acne-prone skin, skin with larger pores, stretch marks, eczema and psoriasis.
I actually love it so much, I have included it in 3 of my facial serums:
To use facial serums: Rub 3-5 drops onto clean, damp skin morning and/or evening.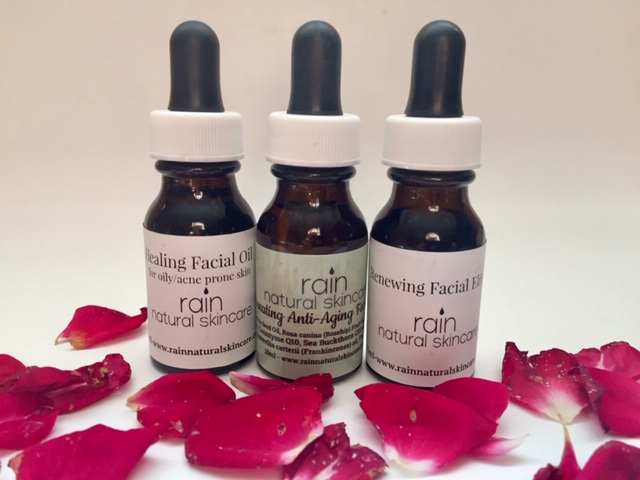 I hope I've convinced you to give Rosehip Seed Oil a try!
To Your Health and Beauty
~Lorraine