Who doesn't love honey? It's a lovely natural sweetener full of beneficial nutrients and antioxidants.
But did you know it's also a very popular ingredient to use in natural skincare due to all of its beneficial elements? Honey has been used as a healing remedy for many years topically to treat wounds and other skin conditions. It's been valued for its cleansing, hydrating, soothing, and beautifying benefits for every skin type. Legend has it that Cleopatra used a mask made of milk and honey on her face.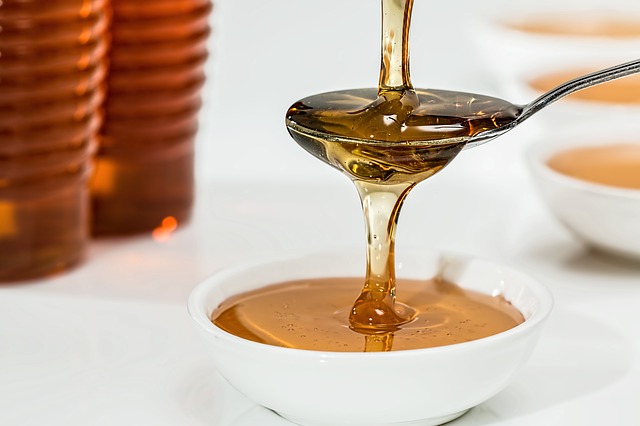 It may seem odd at first, and you may be wondering why you would put something super sticky and full of sugar on your skin. Wouldn't that lead to breakouts and a mess in your bathroom? Well, I want you to know that it is actually very beneficial!
Benefits of honey in your skincare:
It contains an abundance of antioxidants, vitamins, and minerals
It has moisturizing, antibacterial, anti-microbial, and anti-inflammatory properties.
It acts as a natural cleanser by softening and smoothing the skin.
And it's great for all skin types but particularly suited for sensitive, combination and acne-prone skin, due to its role in defeating bacteria that actually causes acne.
It makes sense for honey to be added to skin care products as an ingredient because of its gentle exfoliating properties, and strong hydrating properties to balance skins moisture. It's rich in natural sugars, enzymes, and prebiotics which help to nourish the skin's microbiome too. Because honey is sticky, it's great for removing dirt and excess oil, while still hydrating the skin and what's great is that it won't leave your skin with that dry tight feeling afterwards.
Pro Tip: always use RAW honey to get the most benefits from its antioxidants, enzymes and important nutrients.
Here are 3 easy ways you can use honey as the star in your natural skincare routine:
Although honey won't be good for removing your makeup, it does make an excellent cleanser. Simply wet your face and apply a little honey, the wet skin helps to ensure that things don't become too sticky. Continue by massaging your face like you would any other cleanser product. The stickiness of the honey will gently attract dirt from pores and dead skin cells from the surface of the skin. Then simply wash it off and your skin will be smooth, hydrated, and protected.
Incorporate it into a single-use skin care mask such as my Charcoal Deep Cleansing Mask. Honey is considered one of the best natural remedies for acne and scars, as it aids in defeating bacteria that actually cause acne. Simply add 1 tsp of the dry mask to a small bowl, add ½ tsp water to activate the ingredients, and then mix in 1 tsp honey. Use your fingers or a brush to apply to the face, leave on for 10-20 minutes, gently tap the skin, and then rinse with warm water and remove any remaining with a face cloth.
Dried honey in a face mask is very nourishing for your skin as well. The hydration quality of the honey helps to maintain the skin's elasticity, smoothness and softness. My Matcha Green Tea with Honey & Vitamin C face mask is rich in antioxidants and has dry honey powder, Matcha Green tea is a detoxifier and rejuvenates skin cells, Vitamin C is a potent antioxidant that can improve fine lines and dark spots caused by sun damage. I also included aloe vera to soothe and moisturize your skin. You simply mix 1 tsp dry face mask powder with 1 tsp warm water to make a paste, apply with a brush or fingertips gently on damp skin. Leave 10-15 minutes before removing with warm water. Voila – skin that is more radiant, brighter, calmer, with firmer elasticity, and reduced irritation and inflammation!
Make sure to choose masks with ingredients that are suited to your facial skin, and with all skincare products, be sure to do a patch test before applying the full product. If you notice irritation, stop using the product or honey.
Try one of the above options a try to see and feel the benefits honey will provide. All in all, honey is great for your skin and can help the skin to improve radiance and smoothness and reduce irritation and acne flare-ups. Enjoy!
To Your Health and Wellness,
~Lorraine