With so many skincare brands on the market–especially in the 'natural' and 'organic' markets, it can be hard to distinguish one from another. And with the all-too-common practices of brand washing, greenwashing, and health washing (fancy terms for misleading advertising), it's hard to know who to trust.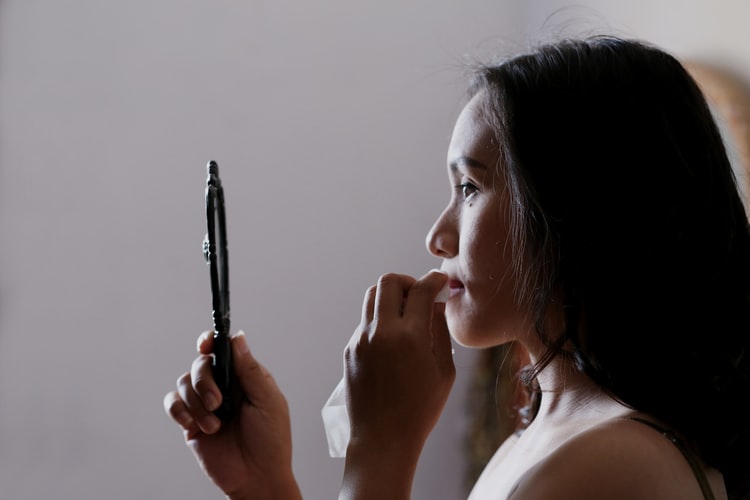 You deserve to know what you're putting on your skin; so here are some questions you should ask about your skincare brand before you put it on your skin for the first time, or especially the next time.
1. Do they disclose ALL ingredients on their product labels and website?
Here in Canada, it is the law to list all the ingredients in skincare products. But, in the United States where much of our store-bought skincare comes from, companies are not required to disclose every ingredient on their labels, in their marketing, or on their website. It's common to see a list of "key" ingredients, but not the full ingredient list on the company's website. They leave out some of the more questionable ingredients like surfactants, emulsifiers, and preservatives.
Many companies or brands that advertise as being organic or natural don't list ingredients that make up less than 1% of the product. While 1% might not seem like a lot of an ingredient in that 1% is a potential allergen, endocrine disruptor, or even carcinogen, wouldn't you want to know you're rubbing it on your skin on a daily basis?
2. Does the product contain water but claim to be preservative-free?
'Free-from' claims are very popular these days, and that's due to concerns about preservatives such as parabens, phenoxyethanol, and formaldehyde-releasing agents, therefore many people have been led to believe that products aren't safe if they contain preservatives. This is VERY FALSE!
If a product contains water, honey or aloe, a hydrosol, or another water-containing ingredient it MUST have a preservative in order to be safe. Water breeds bacteria, mold, and yeast, and it does so quickly! If a preservative is not listed, it means that the product is either unsafe, or that some of the ingredients are already preserved before they're mixed into the final product, and those preservatives are not listed. When in doubt, contact the company and ask.
3. Does the product claim to be 'chemical-free?'
This is an advertising term that's become very popular, but I've got news for you… everything is a chemical. Water is, the air is, even the cells in your own body. Some chemicals are toxic, while others are not. Saying a product is chemical-free is false advertising, regardless of what's in the product!
4. Does the company explain why they chose certain ingredients for certain products, and explain how they benefit the skin?
Ingredients are often put into products because they're trendy but aren't actually formulated in a way that makes sense for the skin type they're meant to help.
5. Does the word 'fragrance' (even 'natural fragrance') or 'parfum' (French for perfume) appear on the label?
Up to 1000 individual constituents can make up a single fragrance ingredient. The majority of those ingredients are synthetic, and many are known endocrine disruptors, allergens, or even carcinogens. In fact, the #1 cause of skin irritations and allergic reactions is fragrances. Even natural fragrance blends are made with synthetics.
The only truly natural fragrances are essential oils and other natural essences like C02 extracts. And of course–companies are not required to disclose fragrance blends (they are considered proprietary/trade secrets), so a consumer will never know.
6. Is the brand owned or endorsed by a celebrity?
There are many instances where celebrities release a skincare line but have very little input into what actually goes into the product. The criteria for ingredient selection usually has more to do with what's on-trend, but with little focus on the functional ingredients that might not be as amazing, but are equally as important. They trust the chemists to make the right decisions, but often those choices are more about the bottom line than anything else. Even some of the greener, cleaner celebrity lines have had public ingredient quality issues.
---
I know this is a lot for you to think about; I know it would be much easier to just keep using products you're used to, or trust beauty bloggers and product reviews to get you the answers to these questions. But knowing what you put on your skin is super important, and being able to have faith in and feel good about the company you're entrusting your skin's health with is equally as important.
Do a bit of digging into the brand you use now, or when looking for a new brand, and see what you find. Your skin will thank you!
---
If you're looking to change up your skincare products and understand what ingredients you are using on your skin, you may want to try Rain Natural Skincare products.
If you have any questions, send those to hello@rainnaturalskincare.com
~ Lorraine
---
RELATED READING: Types of Ingredients that should be in your Skincare Products, What's In Your Skincare Products and The Dirty Dozen.