Do you use a cleanser to clean your face? Or do you simply wash your face with a facecloth and water and call it done?
The first step to having healthy, glowing skin is to cleanse it. But nobody wants to be using toxic chemicals like petrochemicals, liquid plastics or formaldehyde on their skin. Unfortunately, they are in many skin care products. They're hormone disrupters and carcinogens that eventually make their way into our bodies. Therefore choosing natural products, especially to cleanse our delicate skin is a very important first step.
The next step is knowing what cleansers do and how to use them, this can help you decide if you should use one.
So, what is the difference between a cleansing lotion, a cleansing oil, and a cleansing gel???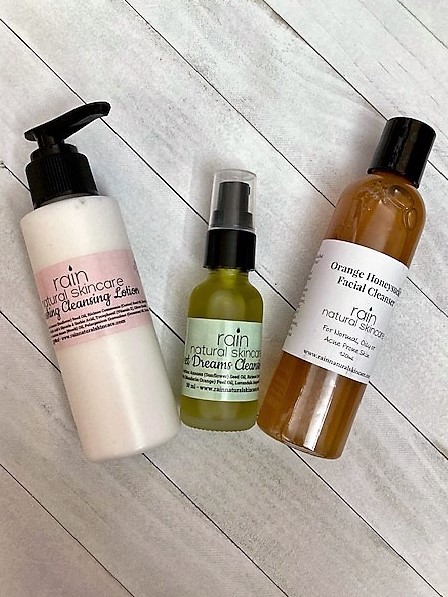 ---
GOOD SKINCARE STARTS WITH CLEAN SKIN
The cornerstone of any good skincare routine is cleansing. If you don't regularly clean your skin or you don't always remove your makeup, then your skin will suffer. A good cleanser gently removes excess sebum (oil), sweat, dirt, pollution, SPF and makeup, and leaves your skin feeling clean and fresh, ready for the next steps in your skincare routine. If your skin feels tight and dry afterwards, please stop using that cleanser as it is stripping away your moisture barrier and can cause harm to your skin over time.
All skin types should use a gentle, fragrance-free, cleanser that won't irritate or dry out the skin. Once you know that a cleanser is made using clean ingredients, choose the right texture for your skin type, this helps to give you the results you want.
First of all, we need to learn what we don't want to be using, and here are the main things to consider. First, the huge skincare industry has made us all believe that we need to be using oil-free products, anti-bacterial soaps, or foaming soap cleansing products. But often, these only strip the skin of its natural oils, leaving it dry. These types of products often worsen oily skin conditions as they strip away all of the natural oil, causing the skin to then overproduce oil to compensate.
Secondly, most products that you buy in the store are highly scented with fragrances! We open the top and think 'how beautiful that smells', but we need to remember that those fragrances are synthetic skin irritants that can be causing issues such as inflammation and redness to our tender skin. We especially need to be concerned about these as they can contain chemicals that disrupt our hormones!
---
Natural Cleansing lotions, oils, and gels are much gentler and suitable for all skin types, even oily skin.
Their benefits are:
They help to clean dirt and excess oil from your skin
They help to moisturize and soften your skin
They clean your skin by not using drying soaps or detergents that can leave your skin overly dry and cracked
They keep your skin naturally balanced because of the moisturizing and softening oils.
They leave your skin much cleaner and best of all, feeling softer.
They are pH balanced for our facial skin.
If we start using natural plant ingredients and light essential oils that are meant to cleanse and moisturize, then we can start to understand what it takes to achieve the results we want.
So how do they work?
When cleansing our skin, we should keep in mind the basic chemistry concept that "like dissolves like." So, therefore, oil dissolves oil. Your skin naturally lubricates itself with oil, so don't be afraid of applying oil to your face. Oil, alone, will not produce blemishes. Pimples and blackheads are a result of several different factors including hormones, bacteria, dead skin cells and the buildup of these factors. Your skin naturally produces oil because it needs it. It is there for the benefit of your skin, allowing it to function properly, and it is naturally occurring. Not only does your natural oil help lubricate, but it also heals, protects, and moisturizes your skin so that it may do its job. Properly functioning skin is beautiful, clear, and glowing. Learning to work with your skin, not against it, will save you a lot of pain, stress, and money!
My cleansing lotion and cleansing oil have amazing non-comedogenic oils and ingredients that soften the skin. These ingredients combined together help to clean the skin by pulling out the trapped dirt and oils from your pores and then when you use a damp facecloth afterwards, the dirt and excess oil will come off your skin, making it so much easier than just using water alone. My cleansing gel is a gentle natural face wash for normal/oily or acne-prone skin. Not only will it gently cleanse your skin, but it also won't be stripping it. With no harsh soaps, it has a gentle cleansing ability and creamy foam. For those people who want to gently cleanse without any oily residue, this is the cleanser for you!
How to use them:
Apply a small amount into the palm of your hand. Rub your hands together and smooth over your face and neck. Gently rub it into the skin in a circular motion, and then remove it with lukewarm water and a damp face cloth. This will remove dirt, makeup and other impurities.
Using a cleanser in the evening before going to bed is important since it will remove dirt and grime accumulated throughout the day and any makeup. Also, making sure you clean your face in the morning is also necessary, because overnight, your skin is rejuvenating and detoxing, this leaves behind dead skin cells and oils that need to be washed off.
I use castor oil in my cleansing oil and cleansing lotion as it is a thick oil that is slow to absorb, so it is good for massaging into the face. Its healing and cleansing promote detoxification and then will lift dirt away from the skin. The washcloth will remove any excess oils.
Which should I use?
An oil-based cleanser quickly removes makeup and leaves the skin supple and soft. Lotion cleansers have a silky texture and also remove makeup. A gel-like cleanser gently and quickly removes excess oil and dirt that can clog pores and lead to breakouts. All three of my cleansers will cleanse your skin, are non-irritating and won't cause redness or flaking. but most importantly, will leave your skin moisturized, nourished and hydrated. The best thing to do is try one and see how it works for you.
So, there it is, we shouldn't be afraid of non-comedogenic oils as they won't clog our pores and can truly be more helpful than we ever imagined!
---
If you're looking to change up your skincare products and understand what ingredients you are using on your skin, you may want to try Rain Natural Skincare. My products are handmade and contain ingredients that come from Mother Earth. There are no toxic chemicals, added fragrances, mineral oils or fillers.
If you have any questions, send those to hello@raninnaturalskincare.com
(Sign up for my email newsletter here to get weekly updates and see where I'm selling my skincare products at!)
To Your Health and Wellness,
~ Lorraine