People often ask me, "what is a facial oil and should I be using one?" So I thought I would share with you why I believe these are so fantastic for your skin!
Oil-based facial serums contain no water content. Because they have such a high quantity of oils, a little goes a long way! Serums moisturize, smooth and soften the skin, they're made using oils that come from plant nuts, seeds and fruit pulp. Mine also contain essential oils for their therapeutic qualities and their scent, rather than using perfumes and fragrances.
Plant oils are essential in facial serums because:
they soften and smooth the skin
they protect the skin
they prevent moisture from evaporating from the skin
they supply the skin with essential fatty acids and vitamins
some are also occlusive, which means they form a thin layer on the skin's surface to protect it, while still allowing the skin to breathe naturally.
Plant-based oils are rich in vitamins, antioxidants and essential fatty acids which help the skin function optimally and improve its condition and appearance. These fats and oils penetrate the skin easily as they are similar to the fats we have under the surface of our skin.
Think of these oils as providing food for the skin.
Once absorbed by the skin, they provide vitamins, minerals, antioxidants and fatty acids to nourish the skin cells. They promote healthy skin functioning, better circulation and vitality – a happy, healthy glow!
Plant oils are rich in essential fatty acids (omega 3 and 6) which are important for our bodies, and once absorbed, can help to treat eczema, psoriasis, acne, and dry and sensitive skin. Fatty acids penetrate the upper layer of the epidermis and help the skin to function properly, and to improve the skin's condition and appearance. They also protect from moisture loss, soften the skin and have rejuvenating effects.
Actually…many skin problems are caused by essential fatty acid (EFA) deficiencies!
Since they have no water in them they won't be hydrating. However, oil-based serums are great for creating a barrier on the skin to prevent trans epidermal water loss, and by reducing water loss they help to keep the skin supple, soft and moisturized. When oils are applied to the skin, they will fill up the small spaces between epidermal cells which will be seen and felt as smoother, softer and healthier skin.
Essential oils are perfect for natural skincare serums as they are readily absorbed through the skin, and are helpful because they:
have highly antiseptic properties – useful for treating acne and skin infections as well as helping the skin's protective functions
help speed up the removal of old skin cells and stimulate the growth of new skin cells – they increase the rate at which skin cells reproduce, therefore promoting the rapid healing of wounds and burns and eliminating scarring
improve blood circulation
help eliminate waste
reduce inflammation – useful for treating eczema and psoriasis
regulate sebum production
reduce the impact of emotional stress – our emotional state often affects the condition of our skin.
Some essential oils can also help with our emotional states such as stress and anxiety which often negatively impact the condition of our skin. They help to heal from the inside out.
How to Use Them:
They don't replace your moisturizer but instead work with your other products. Apply your serum after cleansing and toning, but before your moisturizer so that the active ingredients create a layer between your skin and the moisturizer.
My Rejuvenating Anti-Aging Facial Serum contains Rosehip Oil, Olive Squalane, Coenzyme Q10, Sea Buckthorn oil, Lavender and Frankincense essential oils, all of which are unique high-performance ingredients which you can read about here.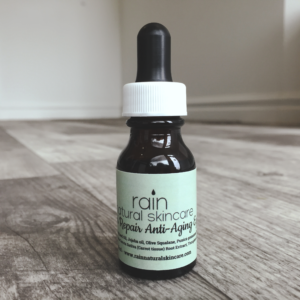 Apply serums to the face and neck as well as the tender under-eye area, and give my De-Puff and Repair Anti-Aging Eye Serum a try. It contains high-performance ingredients such as Olive Squalene, Pomegranate Seed Oil, and infused Carrot Root Oil (which is full of carotenoids for the tender under-eye area). You can read all about the ingredients here.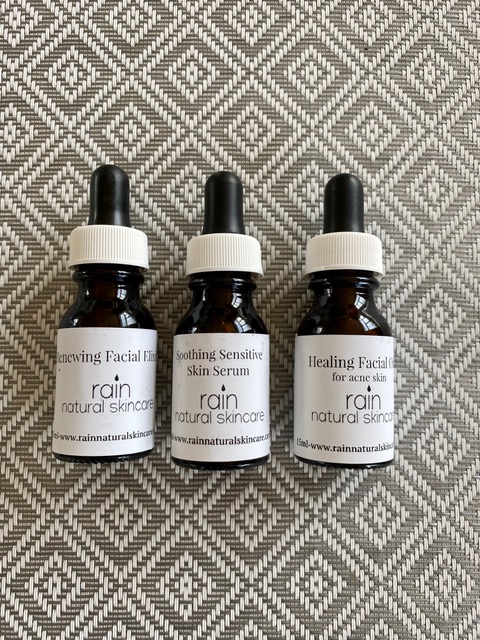 3 Unique Facial Oils for different skin types
I made these 3 facial oils for various skin types. Renewing Facial Elixir is fantastic for normal or combination skin types, it helps to soften and smooth the skin. Soothing Sensitive Facial Serum is best for sensitive skin as it has oils that will calm irritated skin. While my Healing Facial Oil is very helpful for acne-prone skin as it helps with healing and calming inflammation of the skin.
Oil-based facial serums are full of high-performance oil-based ingredients that work wonders on the skin and will leave you with a radiant complexion in no time! Have you tried facial oil on your face before? The idea might seem a bit strange, but give it a try, I'm sure your skin will love it, and let me know what you think!
---
If you're looking to change up your skincare products and understand what ingredients you are using on your skin, you may want to try Rain Natural Skincare products.
If you have any questions, send those to hello@raninnaturalskincare.com
Sign up for my email newsletter here to get weekly emails.
To Your Health and Beauty,
~ Lorraine