When you hear the terms physical and chemical exfoliation, you think… Wait, is this still a natural thing? I'm here to tell you, yes it most definitely is!
Most facial skincare routines include cleansing, toning, exfoliating, moisturizing, and applying sunscreen if going outside. But in order to take care of your skin gently and naturally, you want to make sure that you are using natural methods to do this. This includes using plant-based skincare products, because everything your skin needs and wants can be found using clean and safe, toxin-free, natural ingredients that come from Mother Nature.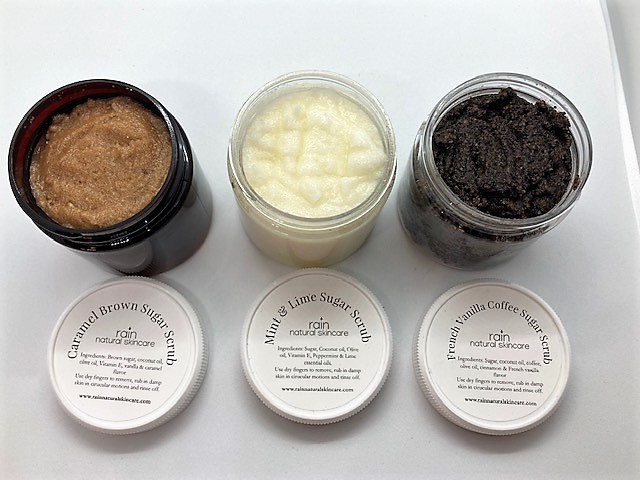 Here are some natural ways to do this while still keeping your skin's structure, function and microbiome in tip-top condition all over your body and face.
Why exfoliating is important for our skin:
You need to remove that layer of dead skin cells to allow healthier, glowing skin to the surface.
Facial exfoliating helps to even out your skin's complexion, opens and clears the pores, removes dirt and debris and cleanses the skin of excess oil.
Body scrubs remove dead skin cells from the outer surface of the skin revealing the smooth skin underneath. It helps to remove dry rough patches, especially on the knees, feet, and elbows.
Helps with lymphatic drainage, therefore, keeping your immune system strong.
How often should you exfoliate?
You only need to exfoliate 1-2 times a week. We want to support the skin's natural exfoliation, but not take over the skin's job. Doing it any more frequently is both unnecessary and can also be damaging to your skin, especially on your face where the skin is more delicate. If your skin is extra sensitive, you may want to start by only exfoliating once every other week.
But make sure you are doing so gently, especially on the face. You want to feel the granules, but it should not feel like you are "scrubbing" your skin off, just use a little pressure. Imagine your face is a balloon that you don't want to pop, so go lightly and use a small amount of water to help move it around using soft circular motions and let the scrub do the work.
Which type of exfoliant to use?
There are actually two types of exfoliation…chemical and physical.
Chemical Exfoliation although it sounds harsh, (and can be if you use harsh chemicals), can be done naturally and gently, by using natural ingredients that have a chemical reaction on your skin, allowing it to exfoliate the skin. It involves using alpha-hydroxy acids (AHAs) products, or enzymes produced by fruits. Milk and yoghurt contain lactic acid which acts as a gentle exfoliator, removing dead skin cells and leaving skin soft and smooth. Chemical exfoliants help to remove dead skin cells by 'ungluing' them from each other. They can increase the skin's elasticity and firmness, stimulate collagen production, and help with hyperpigmentation and sun damage. They can also help to brighten the skin and reduce the appearance of wrinkles and fine lines.
Fruit examples are banana, pineapple, mango and guava powders which are natural sources of AHAs and are an excellent choice for gentle, natural exfoliation using only natural ingredients. Check out my Pink Tropical Hydrating Mask, Matcha Green Tea with Honey & Vitamin C Face Mask, Banana and Chocolate Milk Face Mask or Charcoal Deep Cleansing Mask. They all contain clays, fruit powders, green tea and dried coconut milk or milk powders as chemical exfoliants, and they contain vitamins & antioxidants.
Natural chemical exfoliants use gentle natural ingredients, therefore you aren't applying pressure or rubbing the skin, so they can be good for sensitive or inflamed skin and can be less harsh.
Physical exfoliation involves using physical tools or scrubs to manually rub away dead skin cells. Scrubs contain tiny granules, such as apricot powder, sugar, salt, or coffee grounds. You use motion to gently slough away dead skin cells from the skin's surface. When done gently, physical exfoliation has the added benefit of stimulating blood flow to the skin's surface to support healthy blood and lymph circulation, but if done too roughly, you can inflame the skin. 
For example, my Apricot Exfoliating Facial Lotion uses apricot powder as the physical exfoliant. While my body sugar scrubs use sugar or coffee as the exfoliant which is rubbed gently on the skin to remove dirt, oil and dead skin cells, leaving your skin feeling soft, and smooth, and revealing softer and brighter cells beneath.
Physical tools can include dry brushes, sponges, or a rough washcloth. These can bring extra benefits by first removing the dead skin cells, but they also help with increasing lymphatic drainage to help improve your immune system. Dry brushing should be done gently and can be done every day before you get in the shower, all over your body, or gently on the face. If you're wondering what dry brushing is, read this article to explain the benefits.
If you haven't tried exfoliating any parts of your body before, reach out to me and ask more about it. Exfoliating might just be the important piece of the skincare puzzle you are missing for your skin.
To your health and beauty,
~Lorraine