Winter is a wonderful time of the year, especially if you enjoy getting outdoors and enjoying winter activities, like playing in the snow! However, it's also a harsh time of year for your skin as it starts to become more dry and irritated. With the cold weather outside and the heat indoors, it makes for drier, itchy skin all around.
When the seasons and temperatures change, it affects our skin and how it feels. The first step is to practice self-care with some winter skincare tips that will keep your skin healthy and happy not only in the winter but all year long.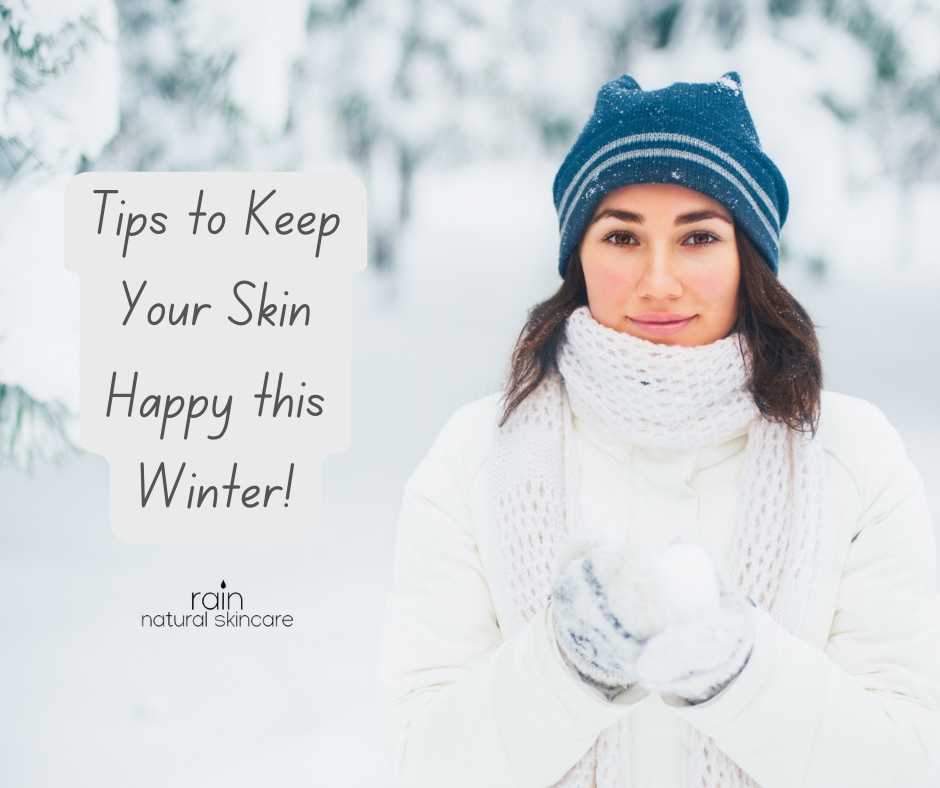 Hydrate from the Inside Out
You should always drink lots of water for your body and skin. Drinking herbal teas or warm water with lemon will help to hydrate you and are very soothing and warming for this time of year. Hydration also comes from including the right fats and oils in your diet. Eat healthy oils like avocado oil, coconut oil, and olive oil, and always avoid processed oils, especially ones that come in clear plastic bottles, such as vegetable oils. 
Protect Your Skin When Outside
A lot of people believe you don't need to use sunscreen in the winter. But you should, because you can get skin damage at any time of the year. Keep using sunscreen even when it's cold outside. I recommend using a mineral sunblock with zinc. Make sure to also apply to the tops of your hands as they can be exposed too, especially when driving your car. Sunscreen helps to preserve our skin's barrier function.
Protect Your Skin Barrier
Using products that are pH balanced for your facial skin is important. Your skin has a specific pH that is naturally slightly acidic. This is a way to ensure a healthy foundation for your skin and to support the skin's microbiome.  Avoid using harsh products that strip your skin of its natural oils, such as highly alkaline pH products. You should use products within the skin's healthy pH range. Use an oil, lotion, or gel-based cleanser to help restore the skin's moisture and also balance its oil production. It's also important not to over-cleanse by over-washing the skin or using products that are too drying or harsh.
Gently Exfoliate the Skin
Another important winter skincare tip is to exfoliate – but do it gently, and it only needs to be done once per week. Try my Apricot Exfoliation Facial Lotion or one of my dry clay face masks as they're not abrasive on the skin. You want to make sure you are not damaging the skin but exfoliating it in a gentle way. Your skin is even more sensitive in the winter so go easy on it. When your skin's protective barrier is damaged, it can be at risk for infections and can make skin issues worse. Using a body sugar scrub is a natural and effective way to exfoliate the skin on your body.
Moisturize Your Skin
Using nutrient-rich, plant-based oils on your skin can give you the healthy amount of moisture you need. You can use facial oils, such as my Rejuvenating Facial Serum for dry skin, or a Soothing Serum for sensitive skin. A facial cream such as a day cream, or night cream is important in the wintertime to moisturize and hydrate the skin. If your skin needs a moisture boost, combine a bit of face cream with a bit of facial oil, mix together in your palm and apply it to the face, to make it even more hydrating and nourishing. The right oils will make your skin feel luxurious and soft even in the winter months when your skin tends to feel drier. Don't be afraid to use oils even if you have oily or acne-prone skin, as the right oils will leave behind a natural glow, heal your skin, and not make you break out.
A body lotion or body butter is fantastic to use on dry skin, as they support the moisturizing factor of your dry skin.
Hydrating from the inside, it can help you to avoid dry chapped lips and dry, brittle hair. However, if you need a little extra moisture, you can use a bit of hair serum on the ends of your hair. My lip balms will help to keep the lips soft and protect them from the cold weather. Remember, to use a natural lip balm, because what you put on your lips, you end up eating!
I hope these tips can help you and give you some ideas to keep your skin happy this winter season and the rest of the year!
My mission is to offer natural skincare products that are safe and free from ingredients that can harm your skin and health. My products are formulated to be pH balanced to promote and protect a healthy skin barrier.
To Your Health,
~Lorraine